Sat / 1 October 2022
Get Spirited This Season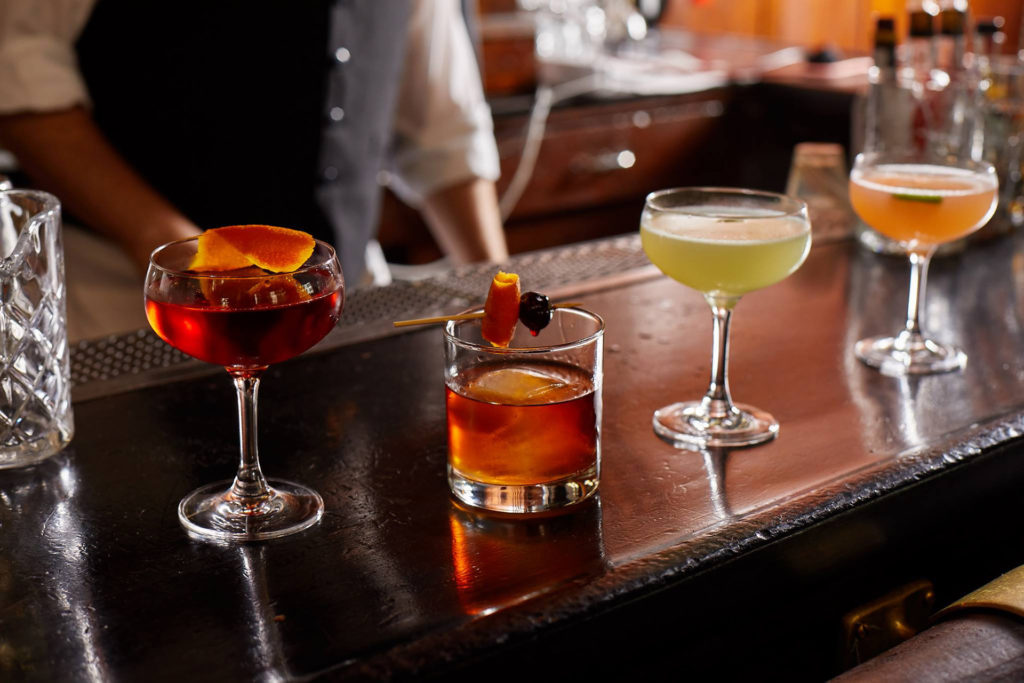 Fall is a special time of year in the City. As the weather cools down and the holiday season kicks off, it's an excellent time to grab a drink with friends and appreciate the cocktail scene in the neighborhood. With experimental mixologists and detail-oriented bartenders serving up drinks with almost any cocktail you desire in every variation possible in bars and lounges across the City, it's hard to know where to start. Below we've listed a few establishments for tracking down a great cocktail, all under a mile from Jasper.
The Flytrap, 606 Folsom Street, 0.2 miles from Jasper. This restaurant is one of the oldest restaurants in San Francisco dating back to the late 1800's. Try the Fly Trap's Original Mai Tai with local rum, orange liqueur, orgeat, lime.
Natoma Cabana, 90 Natoma Street, 0.4 miles from Jasper. The building was originally built in 1912 as Ford's blacksmith shop. Natoma Cabana carries premium spirits, all categories are well represented and chosen carefully.
83 Proof, 83 1st Street, 0.4 miles from Jasper. Popular watering hole serving specialty cocktails & whiskeys in a modern, loftlike space. Whiskey's the main event, but the bartenders will make anything that you, or they, can dream up. A popular drink to order at a bar is a whiskey sour – a lovely balance between whiskey, lemon juice, and sugar syrup with sweet and sour notes.
The Socialite Crafthouse & Kitchen, 100 Brannan Street, 0.6 miles from Jasper. This crafthouse has a beautiful little bar to cozy up to for a cocktail. Try the Socialite with El Tequileno Blanco, prickly, pear, lime, serrano, cucumber.
The Treasury, 200 Bush Street, 0.6 miles from Jasper. Posh cocktail lounge offers delicious cocktails, craft beer, well-chosen wine, and chef-caliber bar snacks in a beautiful 1916 Beaux Arts space that feels lush, classic, and comfortable. Try Squad Goals with Belvedere vodka, manzanilla sherry, strawberry & black pepper shrub, lemon, bitters.
The House Of Shields, 39 New Montgomery Street, 0.6 miles from Jasper. ​Open since 1908, this restored old-school bar is a historic San Francisco landmark and one of the city's oldest bars with high-end, handcrafted cocktails. Try the Gold Rush with Bourbon, lemon, and honey.
Novela, 662 Mission Street, 0.6 miles from Jasper. A stylish, literary-themed bar with drinks named after characters, punch on tap & book-lined walls. Try a Novela Classic like the Jay Gatsby with Tennessee whisky, nocino, amaretto, amaro and Islay scotch.
Local Edition, 691 Market Street, 0.7 miles from Jasper. An extensive cocktail menu is offered at this underground lounge with a vintage newspaper theme. Vintage paper presses and typewriters line the space, while drinks like the Ava Gardner — jasmine tea infused vodka, coconut milk, lemon, ginger, bitters, and basil — pack a vintage punch.
Want to craft a cocktail in your Jasper kitchen? Try the Once Upon a Time in Mexico from Alexander's Steakhouse SF, courtesy of 7×7.
Ingredients:
1½ ounce mezcal (Bruxo x)
½ ounce creme de cacao (Giffard)
1 ounce date vinegar (Huilerie Beaujolaise)
1 ounce pineapple juice
½ ounce fresh lime juice
1 dash firewater habanero bitters
Add ingredients to a shaker with ice and shake vigorously for 30 seconds. Pour over a large ice cube in a glass half rimmed with cinnamon and worm salt (sal de gusano). Garnish with a date wheel and cinnamon stick.
Photo Credit: The House of Shields on Facebook
Sincerely Yours
Jasper is a convergence. Of structure and imagination. Of the classic and the eclectic. Of art and life. This 400-foot high-rise apartment building crowns San Francisco's fabled Rincon Hill and stands as an iconic addition to the city skyline. It is a statement about elegance in a place where elegance actually means something. Follow Jasper on Facebook, Twitter, and Instagram as we share news and updates about our exciting new community. #rentjasper It's a heck of a place to call home.