Sat / 25 March 2023
The Jasper April Agenda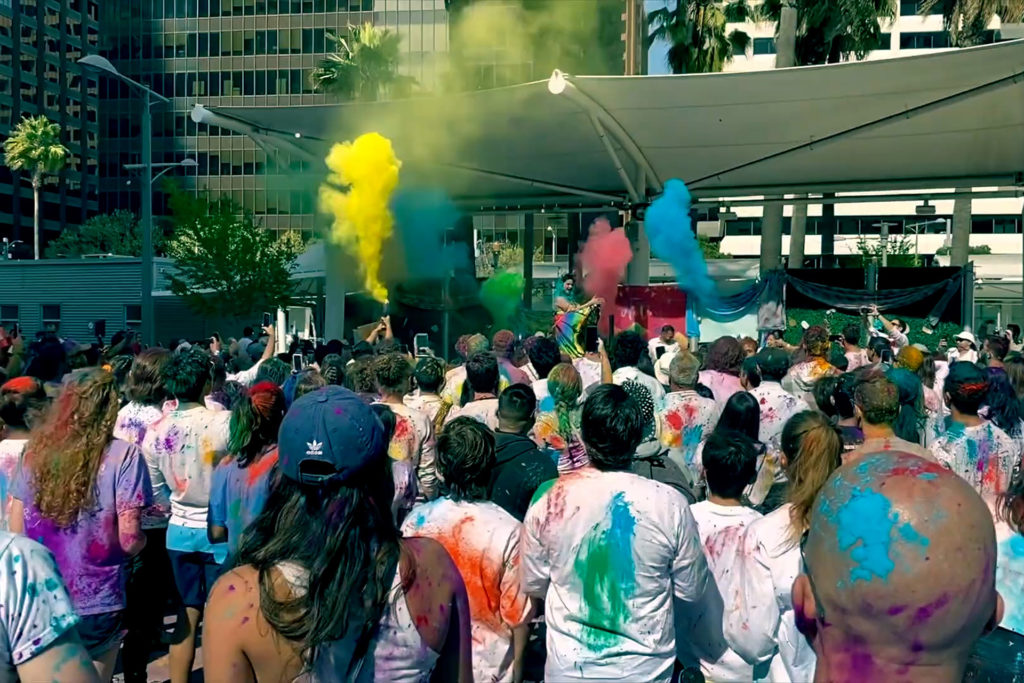 Life at Jasper puts you in the center of excitement every month. April brings a variety of must attend events to the City. We've rounded up a few that include live music, plenty of pop ups, baseball games, and much more. Map out your month here:
April 1, 3rd Annual STEM Frenzy Festival. The STEM Frenzy festival is a day where we bring the community of all ages together to celebrate and explore the wonders of Science, Technology, Engineering, Math, and Art.
April 1-2, Lady M x Baccarat Luxury Cake Truck Pop-Up. An experience like no other, the Lady M x Baccarat Luxury Cake Truck brings the full Lady M boutique experience to the Ferry Building.
April 1, 15 + 29, Ferry Plaza Farmers Market Ride. Join Trek Bicycle SOMA for an awesome, family friendly group ride to the Ferry Plaza Farmers Market.
April 1-30, The Unreal Garden. Breathtaking tours in The Unreal Garden provide an interactive stroll through a holographic dreamworld featuring art by Android Jones.
April 2, HEAD WEST, Every first Sunday of the month Head West will bring Bay Area Makers, Crafters, Designers, Artists + Vintage Merchants to the Ferry Building's beautiful back plaza.
April 2, Salsa Sundays. Join outdoor Salsa classes with Dance Mission's instructors at the Ferry Building every Sunday in April from 1pm – 2pm.
April 2, Breakfast with the Easter Bunny at Neiman Marcus. Take pictures with the Easter Bunny and enjoy a balloon artist and face painters.
April 5, Live Music on the Plaza. Enjoy lunch and live music from 12:00 – 1:00 PM on the Ferry Building's Back Plaza featuring Bay Area musicians every Wednesday in April.
April 5, Passover Seder @ The SF Mint. Enjoy a Community Passover Seder complete with hand-baked Matzah, wine, and a wonderful holiday dinner spiced with unique traditional customs.
April 6, Rincon Sneak Walking Tour – 2023 Spring Series. This walking tour goes off the beaten path to discover the most hidden public spaces in SoMa.
April 6, First Thursdays at SFMOMA. From 1–8 p.m. on the first Thursday of every month, Bay Area residents can enjoy SFMOMA's galleries filled with lively and inspiring art — for free.
April 6 + 20, Yerba Buena Gardens Public Art Tours. Yerba Buena Gardens Festival's recurring walking tour exploring the stunning public art of Yerba Buena Gardens!
April 7, Bollywood Dance Fridays at Salesforce Park. An amazing fun Bollywood dance class for all ages and all levels come dip your feet in Bollywood with Manpreet known to bring hearts to joy.
April 8, Making Art in the Park. Join Yerba Buena Center for the Arts for a conversation with the award-winning artist, curator and educator, Tsungwei Moo.
April 9, Gardeneur Plant Market Pop-Up Event. Gardeneur's monthly Plant Market returns to the San Francisco Ferry Building, Second Sundays starting April to September.
April 11, Trivia Night at Barebottle Beer Garden @ Salesforce Park. Live multi-media trivia every Tuesday night @ 5:30pm Barebottle Beer Garden @ Salesforce Park.
April 14, Comedy at The Crossing. Head to The Crossing at East Cut for a night filled with laughs, drinks, bites, and more. This is the perfect date night activity or Saturday night gathering with friends.
April 15, SF SneakerPopUp. The Sneaker PopUp event is the biggest growing interactive platform in the Sneaker industry.  
April 15, MOAD Screening. Museum of The African Diaspora invites you to a special screening of The Girl From 7th Avenue – Pat Cleveland and the Runway Revolution.
April 19, Art Bash. SFMOMA invites you to the museum's most spectacular party of the year celebrating art and artists!
April 19, Wednesday Flight Nights. This is a great opportunity to enjoy delicious wines and chat with the types of artisanal producers from around the globe featured at the Ferry Plaza Wine Merchant.
April 20, The Elephant 6 Recording Co. Located in the heart of downtown San Francisco, The Cut Outdoor Cinema at The Crossing is the Bay's first year-round outdoor cinema.
April 22, DC Super Hero Day. In partnership with DC, the Giants are proud to host DC Super Hero Day at Oracle Park.
April 23, Earth Day Activities. Head to the Marketplace for a 'Ferry Family Day' of kids and family activities! Make a 'Grow Buddy' using soil and seeds, upcycle everyday objects to create new works of art, and paint stones to give as gifts or leave your mark in the park.
April 29, Holi Festival. Welcome the warmer weather and celebrate a colorful Holi festival & Bollywood Dance party at The Crossing at East Cut near Salesforce Tower.
Wednesdays in April, Dance Outdoors with Rhythm & Motion. Rhythm & Motion and Yerba Buena Gardens Festival invite you to join us for R&M Fusion class at the beautiful Yerba Buena Gardens.
Sundays in March, Farmers Market. The East Cut is hosting a farmers market at The Crossing at East Cut through May 2023 with the goal of establishing a permanent Sunday farmer's market in the neighborhood.
Movies all Month Long. Located in the heart of downtown San Francisco, The Cut Outdoor Cinema at The Crossing is the Bay's first year-round outdoor cinema. Check out what's coming to the big screen.
Image credit: The Crossing
Sincerely Yours
Jasper is a convergence. Of structure and imagination. Of the classic and the eclectic. Of art and life. This 400-foot high-rise apartment building crowns San Francisco's fabled Rincon Hill and stands as an iconic addition to the city skyline. It is a statement about elegance in a place where elegance actually means something. Be sure to follow Jasper on Facebook and Instagram as we share news and updates about our exciting new community.  #rentjasper It's a heck of a place to call home.