Sun / 26 March 2023
Embrace Your Inner Cinephile at Jasper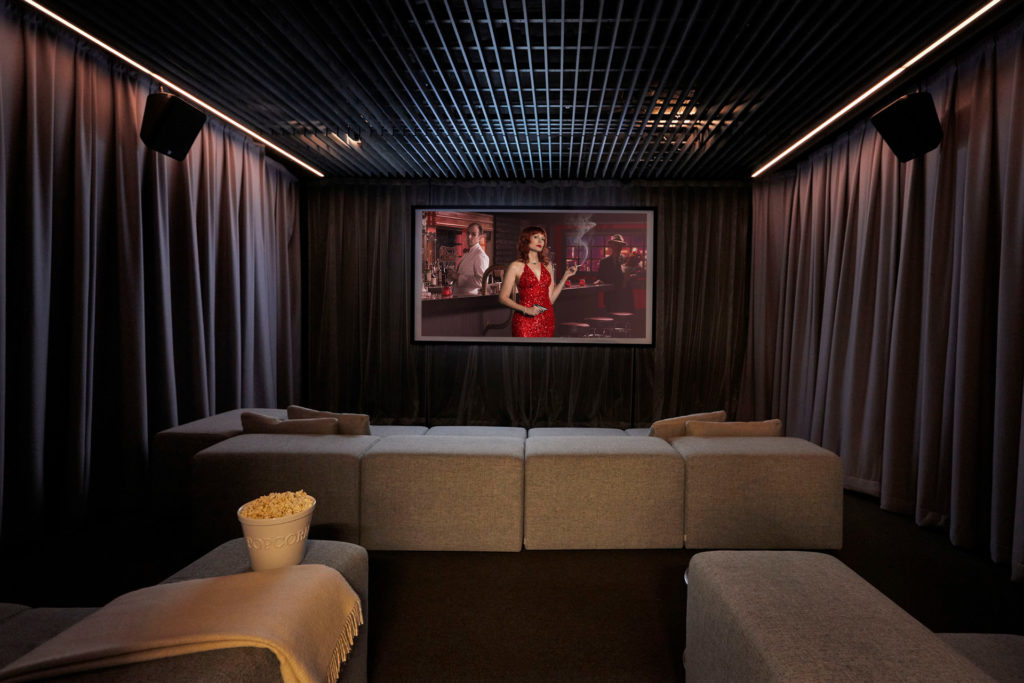 Good movies deserve a full-screen treatment. San Francisco has a popular film noir scene and the Dark Room at Jasper is the perfect setting to experience it. The sleek onsite theater with a large projector screen features pod-style seating, setting the stage for a wonderful movie viewing.
Combining high-tech wizardry and luxury amenities with intriguing "film noir" inspired elements, Jasper is designed by local architect Stanley Saitowitz in collaboration with HKS Architects. Film noir is a popular genre of midcentury American crime films, recognized for beguiling characters, ambiguity, and artful use of black and white visuals. Jasper's dramatic aesthetic will pay homage to the surrounding Rincon Hill neighborhood, which has played a key role in San Francisco history in both boom times and busts.
"There are many luxury residences in San Francisco, but few actually reflect the place in which they stand," said Saitowitz. "Jasper is setting a new benchmark in luxury real estate by embracing and celebrating the neighborhood's storied history – providing a way for residents to appreciate Rincon Hill – both its times of affluence and times of peril. The distinct film noir design touches woven into the building's design aesthetic reflect the city's style, culture and elegance – with a hint of mystery."
Throughout the building, Saitowitz seamlessly blends style and functionality, drawing upon expressive lighting and shadows, stark "camera angles," and high-contrast elements to create a sense of suspense, surprise and irony. The lobby showcases sleek, dark wood finishes, angular light fixtures, and dramatic cutaway fireplaces. Similarly, the lounge features dark wood flooring and paneling, accented by playful light fixtures. Interior furnishings in black and white color scheme reinforce the film noir motif.
Located at the intersection of First and Harrison streets atop Rincon Hill, Jasper rises 40 stories and offers sweeping, never-before-seen views of the Bay, SoMa and Downtown San Francisco. The neighborhood boasts a solid pedigree as a desirable, affluent area, the one-time home of nineteenth century mansions and now twenty-first century luxury high rises, though it has undergone turbulent times as well. Rincon Hill was hit hard by the devastating earthquake and fire of 1906 and was rebuilt as an industrial district, populated by the small factories and warehouses that fueled the city's recovery. Today it is one of San Francisco's fastest growing neighborhoods with new restaurants, markets and cafes popping up to serve the burgeoning residential population. With its storied past and renewed vibrancy, Rincon Hill in the East Cut neighborhood is a fitting place to pay homage to film noir.
NOIR CITY, the Bay Area Film Noir Festival, celebrated its 20th anniversary in the Bay Area this January with a ten-day extravaganza featuring 24 films from the heart of Hollywood's noir movement, 1948. Every film on the schedule is celebrating its 75th anniversary, with several of the movies having never before been screened at NOIR CITY.
Jasper's film noir theme finds expression in every aspect of the project, including its logo. Using negative space to create an interplay between shadow and light, Jasper's logo hints at the motifs of shadow and uncertainty. The incomplete lettering also suggests that there is room for interpretation — just as each resident is invited to interpret the building's living space as he or she sees fit.
Image credit: NOIR CITY
Sincerely Yours
Jasper is a convergence. Of structure and imagination. Of the classic and the eclectic. Of art and life. This 400-foot high-rise apartment building crowns San Francisco's fabled Rincon Hill and stands as an iconic addition to the city skyline. It is a statement about elegance in a place where elegance actually means something. Be sure to follow Jasper on Facebook and Instagram as we share news and updates about our exciting new community.  #rentjasper It's a heck of a place to call home.
Portions of Article re-purposed from theregistrysf.com article.