Fri / 3 February 2023
Love Is in the Air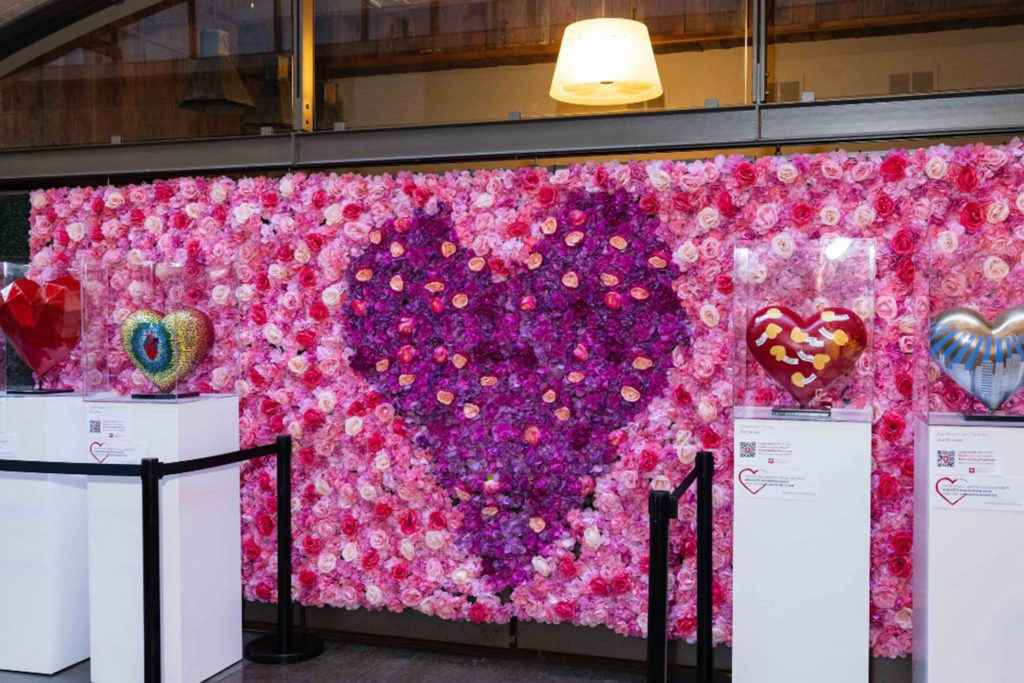 Fall in love with these seasonal favorites and fun at the nearby San Francisco Ferry Building, just a mile from your door at Jasper. Bring a date or indulge solo and join an Epicurean Affair beneath the Clock Tower as you taste through and experience the Ferry Building with gourmet bites, wines, cocktails, music and art activities celebrating the love of San Francisco. Spoil your loved ones or treat yourself to Champagne truffles, organic soft serve with festive heart-shaped sprinkles, heart-shaped layer cake, or Red Envelope Tea for two.
LOVE BITES! Enjoy an evening of gourmet bites, wines, cocktails, music and art activities celebrating the love of San Francisco on February 9th from 5pm to 7:30pm. Sip and savor wine from over 20 Napa Valley wineries; enjoy Flamenco performances, music, and chocolate spin art bar by Recchiuti Confections; and play themed games to win freebees at the event and enter prize drawings for a chance to win a Heath Ceramics vase or Ferry Building goodie basket! Try one-night-only bites from over 20 Ferry Building merchants, including:
Live Oyster shucking station and cocktail samples like the Pimm's Cup and Marshall Margarita at Hog Island. Beet arancini with pickled beet emulsion, and Hungarian paprika creamed cheese crudité from Boulettes Larder. Phyllo cup with lime creme fraiche topped with Baerii Caviar from Tsar Nicolai. Bite sized versions of "Not-Exactly-It" ice cream sandwiches, as well as recent seasonal release Buena Vista Irish Coffee inspired stout from Fort Point. And Churro bites with drizzled Macapuno sauce from Senor Sisig.
The event proceeds benefit Foodwise, the nonprofit operator of the Ferry Plaza Farmers Market and education programs for eaters of all ages. Purchase your tasting tickets in advance and redeem for food and wine throughout the evening.
Hearts in SF 2023. The heart of San Francisco beats to its own rhythm, and it always has. Don't miss your chance to view the 2023 'Hearts in SF' sculptures at the San Francisco Ferry Building. This year, 24 of the 35 new sculptures will be on display for the month of February before being auctioned at Hearts in SF.
On the hunt for a treat for your sweetheart?
Not your average box of chocolate. Give the gift of pure chocolate heaven with Dandelion's Classic Box of Chocolates, including flavors from Feve enrobed in Dandelion's 70% single-origin dark chocolate. A Love Letter to Esmeraldas, Ecuador is a special Valentine's Collection with 3-dessert courses each in a box from chocolate covered figs to single-origin tropical flavored truffles. Each course is styled in a handsome reusable Japanese stapled craft box. Recchiuti Confections is offering a collection of artisan Valentine's gifts, including their Love Letters Box, Champagne Truffles and for the ultimate indulgence, the Valentine's Platinum Collection. Miette Patisserie showcases their version of the classic Valentine's box of chocolates through a custom box of chocolate macarons: dense, chewy, and meltingly light.
We all scream for an cream dream date. Humphry Slocombe is offering a decadent Valentine's Day special at the Ferry Building. The Threesome Sundae includes three scoops of indulgent chocolate flavors (Dark Chocolate Orange, Nutella & Hazelnut Brittle, and Malted Milk Chocolate), topped with hot fudge. If soft serve is more your style, Gott's Roadside is serving up Straus Milk organic soft serve with festive heart-shaped sprinkles all month long!
The icing on the cake. Celebrate Valentine's Day with CheeseQuakes and one of their many extravagant flavors, like Lemon Champagne: bright lemon, a splash of champagne and white chocolate bubbles! For gluten-free or vegan options (but none of the flavor restrictions), stop by Mariposa, where you'll find Valentine's-themed cupcakes, a special heart-shaped layer cake, and of course the sweetest little Shortbread Cookies.
Tea for two. This Valentine's, treat a loved one to a tea tasting lead by the expert staff at Imperial Tea Court. The quiet shop provides the perfect ambiance to linger over heirloom tea blends, hand stretch noodle soups and dumplings. Try the Red Envelope Tea – A stunning herbal blend as beautiful as it is aromatic. This tea includes sweet lavender flower, tangy orange peel, and fragrant jasmine tea.
Image credit: sfghfoundation on Instagram
Sincerely Yours
Jasper is a convergence. Of structure and imagination. Of the classic and the eclectic. Of art and life. This 400-foot high-rise apartment building crowns San Francisco's fabled Rincon Hill and stands as an iconic addition to the city skyline. It is a statement about elegance in a place where elegance actually means something. Be sure to follow Jasper on Facebook and Instagram as we share news and updates about our exciting new community. #rentjasper It's a heck of a place to call home.