Tue / 5 July 2022
Local Love – East Cut Sports & Dog Park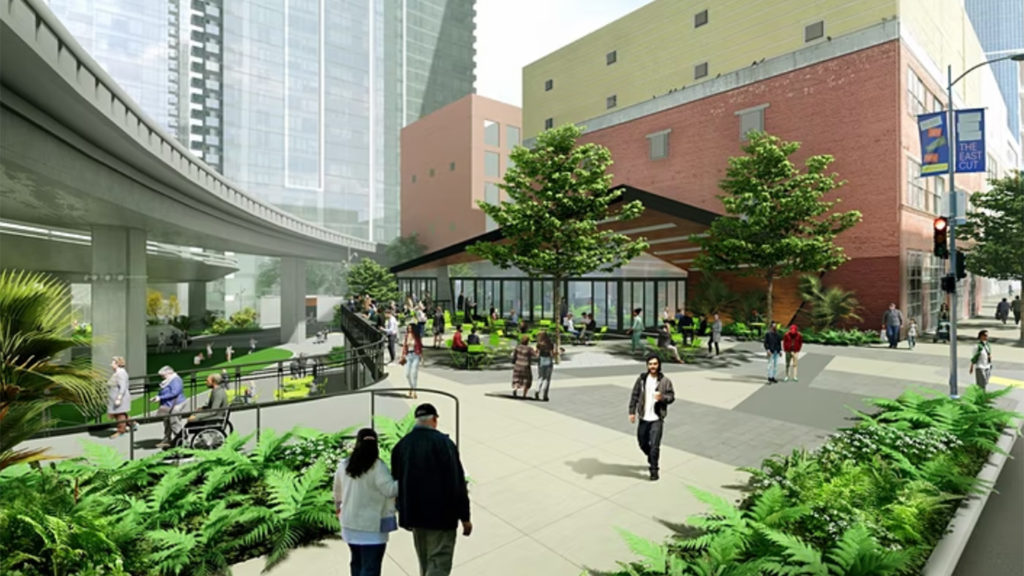 We love being part of one of the most dynamic neighborhoods in San Francisco. Lifestyle and cultural venues are a central focus for The East Cut.  One wonderful asset underworks is the East Cut Sports & Dog Park.
Here are all the details and updates from our friends at The East Cut:
East Cut Sports & Dog Park (temporary project name) is a 2.4-acre park space planned in the East Cut. The park spans four blocks and will connect to a hotel, residences, and six different streets. The park features a large fenced dog run, two multi-sport courts, lawn spaces, an outdoor fitness area, a beer garden, three affordable retail spaces, a two-way cycle lane, and so much more! Whether you live or work in the area, whether or not you have children and pets, this is the park for you. Under Ramp Park is the most connected park in the neighborhood and increases mobility for pedestrians and bicyclists through the neighborhood.
The neighborhood is abuzz with the news and there are opportunities for those interested to preview the future park.
The East Cut CBD is offering a exclusive preview of the future park that will transform the neighborhood: East Cut Sports & Dog Park! We will take a look at the park footprint and present the different development areas.
What: East Cut Sports & Dog Park Preview Walking Tour!
Where: 25 Essex St, San Francisco, CA
When: Multiple dates this summer
July 13
Wed, 4:30 PM – 5:30 PM PDT
August 17
Wed, 4:30 PM – 5:30 PM PDT
September 14
Wed, 4:30 PM – 5:30 PM PDT
Learn more about the preview and consider donating; it's a great cause. https://www.theeastcut.org/sportsanddogpark/
Image credit: The East Cut
Sincerely Yours
Jasper is a convergence. Of structure and imagination. Of the classic and the eclectic. Of art and life. This 400-foot high-rise apartment building crowns San Francisco's fabled Rincon Hill and stands as an iconic addition to the city skyline. It is a statement about elegance in a place where elegance actually means something. Be sure to follow Jasper on Facebook, Twitter, and Instagram as we share news and updates about our exciting new community. #rentjasper …. it's a heck of a place to call home.