Sat / 9 April 2022
Springtime Fun at The Crossing at East Cut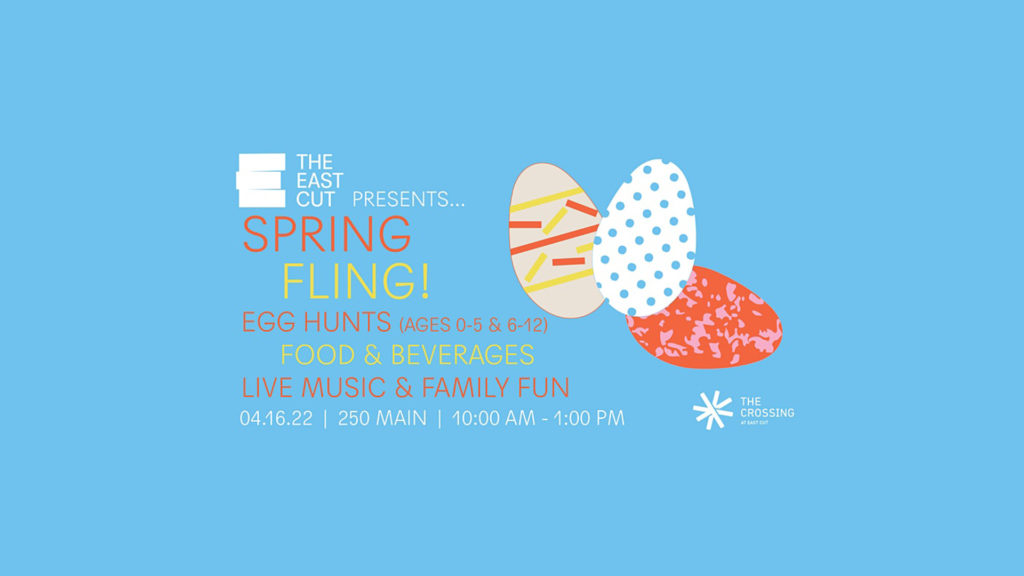 Spring is in full swing in the City.  The weather is warming up and so is the nearby, outdoor events scene. One of the most popular event venue is The Crossing at East Cut and they have their Spring Fling event planned for this Easter.  You can join the fun and celebrate on April 16th with Easter egg hunts, live music, crafts, photos with Mr. Bunny and more!
This family-friendly event will include two Easter egg hunts for kids of different ages, craft stations, live music, a photo backdrop for your Instagram-able moment with the Easter Bunny and more. Hop on over to see the action! The event starts at 10:00 a.m. and ends at 1:00 p.m., ideally situated for lunch and nap time!
Event Details
Sat, April 16, 2022 10:00 AM – 1:00 PM PDT
Event Location: The Crossing at East Cut Beer Garden
Event Starts: 10:00 a.m.
Egg Hunts Begin*: 10:15 a.m.
Easter Bunny On-Site: 10:30 a.m. – 11:30 a.m.
Live Music Begins: 11 a.m.
Crafts for Small Children
Crafts for Adults
Food Truck On-Site: 11 a.m.
Free Coffee and Pastry for First 100 Guests
Spring Photo Backdrop
During the event, take a tour of the future East Cut Sports & Dog Park!
* Children aged 0-5 meet at The Crossing at East Cut for egg hunt. Children aged 6-12 meet at Emerald Park for egg hunt.
Be sure to check The Crossing at East Cut website for upcoming events and announcements.
Sincerely Yours
Jasper is a convergence. Of structure and imagination. Of the classic and the eclectic. Of art and life. This 400-foot high-rise apartment building crowns San Francisco's fabled Rincon Hill and stands as an iconic addition to the city skyline. It is a statement about elegance in a place where elegance actually means something. Be sure to follow Jasper as we tell our story on Facebook, Twitter, YouTube and Instagram as we share news and updates about our exciting new community.  #rentjasper It's a heck of a place to call home.