Wed / 8 December 2021
Holiday Fun – Winter Fest at The Crossing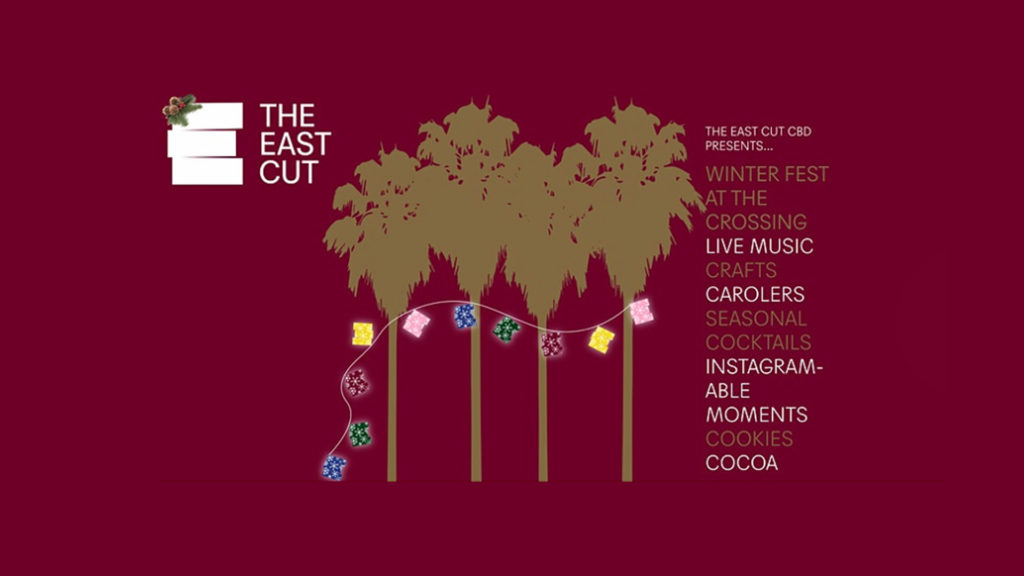 Join the holiday fun at The East Cut CBD open-air holiday party for all ages on Saturday, December 11th! Head to The Crossing at East Cut for Winter Fest where holiday revilers will enjoy craft-making, live holiday music, carolers, a free hot cocoa bar, and for-purchase seasonal cocktails and savory food.  There will also be a raffle with prizes.
You can memorialize the event at the festive photo backdrop and holiday portrait studio. The event kicks off at 3 p.m. and runs until 6pm, so join the holiday fun and have some jolly neighborhood Winter-Fest-ivities!
Event Details
Event Location: The Crossing at East Cut Beer Garden 200 Folsom Street
Saturday, December 11th 3:00 PM – 6:00 PM PST
Live Music Begins: 3 p.m.
Carolers Perform: 4 p.m. and 5 p.m.
Crafts for Small Children
Crafts for Adults
Entertainment for Small Children
Holiday Raffle with Over $1,400 in Prizes
Food Truck
Free Hot Cocoa Bar
Holiday Cash Bar for Those 21+
Holiday Photo Backdrop
Holiday Portrait Studio
About The Crossing at East Cut.  The Crossing at East Cut is an ever-evolving urban destination in the heart of East Cut neighborhood that brings people together with around the clock activations and amenities to celebrate community, promote active wellness, and enjoy a dynamic spectrum of entertainment.  
The 3.5-acre block where the temporary Transbay Terminal was located has been transformed into a new outdoor community and entertainment destination for all to enjoy. The Crossing's Community Zone features 5,000 square feet of indoor space, which can be reserved by local community groups at no cost. There's also a dedicated community fitness area for both individuals and trainers. 
Sounds like a fun time and a great way to support the latest amenity in the neighborhood we all love to call "home". RSVP here.
Image credit: The Crossing at East Cut on Facebook
Sincerely Yours
Jasper is a convergence. Of structure and imagination. Of the classic and the eclectic. Of art and life. This 400-foot high-rise apartment building crowns San Francisco's fabled Rincon Hill and stands as an iconic addition to the city skyline. It is a statement about elegance in a place where elegance actually means something. Be sure to follow Jasper on Facebook, Twitter, and Instagram as we share news and updates about our exciting new community. #rentjasper ….It's a heck of a place to call home.