Mon / 16 August 2021
Salesforce Park Free Activities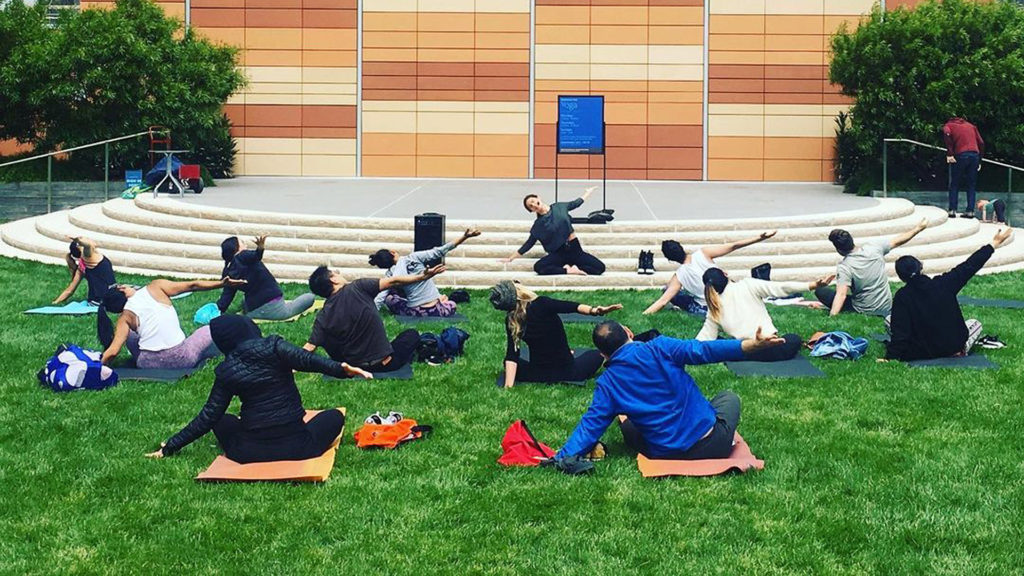 Nearby Salesforce Park offers a variety of activities for all to enjoy. From Bootcamp to ZUMBA, Yoga to HIIT (High Intensity Interval Training), there is something everyone regarding fitness and wellness. They also have a number of hobby and interest topics, including knitting, bird walks, writing and so much more.
Located just a few short blocks from your home at Jasper, Salesforce Park offers a wonderful escape from the energy of our urban setting. We have re-purposed the list of all of the free activities offered.
Fitness and Wellness

HIIT: Tuesdays, 5:30 p.m. – 6:30 p.m. at Amphitheate
Bootcamp: Thursdays, 8 a.m. – 9:00 a.m. at Main Plaza
ZUMBA: Thursdays, 12:30 p.m. – 1:30 p.m. at Main Plaza
Yoga: Fridays, 12:30 p.m. – 1:30 p.m. at Amphitheater
Hobbies and Interests

Knitting Meetup: Mondays, 2:30 p.m. – 4 p.m., meet at Main Plaza
Monday Night Makers: Mondays, 4:30 p.m. – 6 p.m. at Main Plaza
Bird Walks: First Wednesdays, 8:00 a.m. – 8:45 a.m., meet at Main Plaza
Writing in the Park: Wednesdays, 12 p.m. – 1 p.m. at Main Plaza
Garden Education Series: Fourth Wednesdays (Monthly), 10 a.m. – 11:00 a.m., meet at Main Plaza
Photography Class: Every other Sunday, 3:30 p.m. – 5:00 p.m., meet at Main Plaza
Children and Families

Toddler Tuesday: Tuesdays, 10 a.m. – 11 a.m. at Main Plaza
Live Entertainment

Live @ 5 – After Work Music: Wednesdays, 5 p.m. – 6 p.m., at Main Plaza
Lunchbox Music: Fridays, 12 p.m. – 1 p.m., meet at Main Plaza
Portal by RAWdance: Friday-Sunday (September 3-5), 7:30 p.m., starting at Main Plaza
Follow all the fun and get updates on their webpage, Facebook page, Twitter and Instagram feeds. If you prefer, you can even opt in for text alerts by texting SFTCSC to 333111.
Image credit: @transitcentersf
Sincerely Yours
Jasper is a convergence. Of structure and imagination. Of the classic and the eclectic. Of art and life. This 400-foot high-rise apartment building crowns San Francisco's fabled Rincon Hill and stands as an iconic addition to the city skyline. Join us on Facebook, Twitter, YouTube and Instagram as we share news and updates about our exciting community. #rentjasper It's a heck of a place to call home.