Tue / 4 May 2021
What's Happening at Yerba Buena Gardens?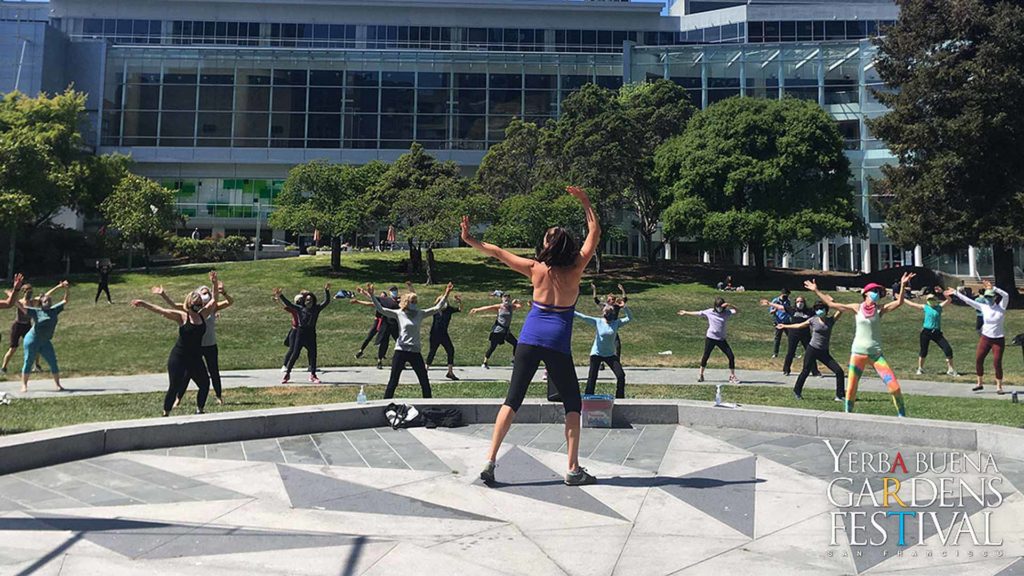 Music and Dancing are back at Yerba Buena Gardens, only 0.6 miles from Jasper. Upcoming activities will come in the form of unplugged music performances, socially-distanced dance classes, and more. Located in the heart of the City's downtown cultural district, Yerba Buena Gardens the perfect place to play, dine, shop or just relax. What's happening this summer?
Outdoor Dance Classes with Rhythm & Motion. For over 40 years, Rhythm & Motion has provided the joy, intensity and skill of dance to the public in welcoming atmospheres through its classes, events and community-minded programming. Rhythm & Motion (R&M) is an addictive follow-along class that is inspired by vocabulary and a soundtrack of songs from across the globe. Classes are taught by experienced dancers and performing artists that all emphasize the joyful spirit and open expressiveness of dance in its many forms. All levels and abilities are welcome to join. Classes are scheduled for Tuesdays in May, with the possibility of continuing. Free registration is required and capacity is limited per SFDPH guidelines. Registration for the upcoming week of classes will open on Fridays at 6pm.
Upcoming classes:
11am-noon, Tuesday, May 11
11am-noon, Tuesday, May 18
11am-noon, Tuesday, May 25
Lunchtime Pop-Up. Featuring intimate, informal performances with solo and duo artists, passersby can enjoy art during their lunch break or afternoon walk through Yerba Buena Gardens. In partnership with Metreon, Lunchtime Pop-Ups are on Thursdays from 12-2pm. Get your lunch to-go from one of Metreon's lovely eateries and enjoy your lunch outdoors. Capacity is limited to 50 people seated at physically distanced tables.
Upcoming dates and artists for May 2021:
5/13 – Aireene Espiritu. Aireene Espiritu is a singer/songwriter playing stompin', swayin', timeless Americana.
5/27 – Sang Matiz. Guitarists Yuriza Jared and Eddie Cabezas of Sang Matiz bring World, Funk and Afro-Latin rhythms to your lunchtime.
Spring Saturdays. A fun-filled outdoor experience on Saturday from 10am-2pm held in the LeRoy King Carousel and Gardens courtyard. Enjoy collaborative Earth Day-themed art activities and take-home creativity kits from SOMACC, SOMCAN, and The Mexican Museum. YBG Festival is excited to present a performance from RhythmALLogy, on Saturday, May 29 from 11am-1pm. Check the CCM Spring Saturdays webpage for the new registration page closer to the event.
Adhering to social-distancing and mask requirements in Yerba Buena Gardens, YBG Festival will implement limited capacities and other important safety measures. While you're out and about, explore the public Yerba Buena Gardens that combine design and plantings to reflect the diversity of cultures in San Francisco and the world. The open sky and the backdrop of buildings and bridges create a serene oasis in the middle of the bustle of downtown.
Photo credit: https://www.facebook.com/YBGFestival
The Royal Treatment
In ancient Greece, any guest could be a god. That's how we think of our residents and the folks they invite over. It translates to more than just respectful customer service. It means genuine empathy and concern for people's well-being. Our 24/7 on-site staff obsess over details to make your home life warm and comfortable. You can hit them up for anything from laundry pickup and local organic food delivery to dog walking and excursion planning. Friendliness begets friendliness. Joy yields more joy. That's what it's all about. Discover new, luxury San Francisco apartments at Jasper in Rincon Hill. Be sure to follow Jasper on Facebook and Instagram as we share news and updates about our exciting new community. #RentJasper It's a heck of a place to call home.