Sun / 2 May 2021
Just Around the Block: Block 3 Park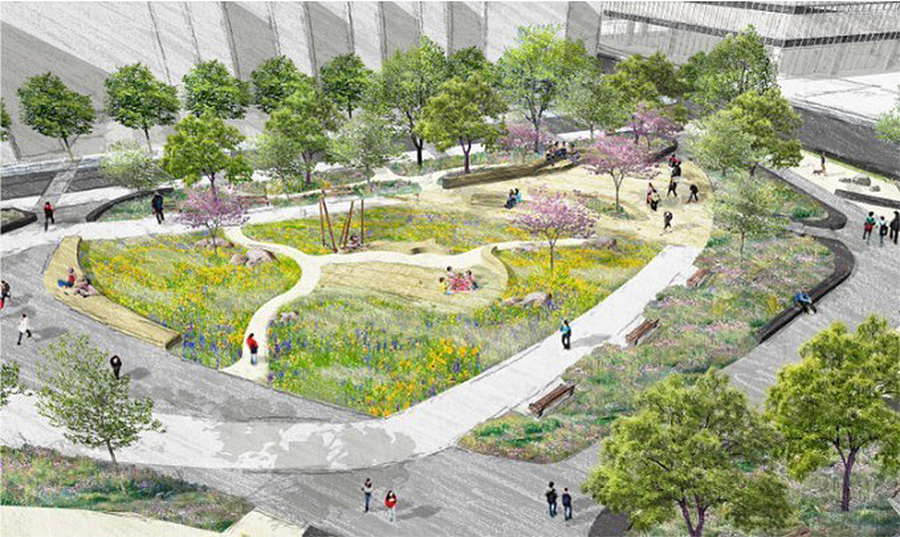 Exciting projects are in the works in The East Cut! Transbay Block 3 Park will be located at San Francisco's former Temporary Transit Terminal mere minutes from home at Jasper atop Rincon Hill. The new park is approximately one acre and will include informal gathering spaces, landscape furnishings, greenery, and play features for kids. There's so much for all Jasper residents to look forward to within walking distance! The new Clementina and Tehama alleyways will flank the park and two new developments at Block 2 and Block 4.

OCII, SF Recreation & Parks, and Public Works are now in the process of reviewing ideas and information on the final conceptual design elements of the Transbay Block 3 Park before the project goes into the construction documentation process. In September 2020 Landscape Architects from Public Works presented 3 concepts for the park which included, "The Clearing", "The Commons" and "The Ripple".
The East Cut is also home to many incredible artworks, public spaces, plants, and buildings. This spring, The East Cut CBD is creating a series of neighborhood tours based on four different themes: public art, hidden places, Salesforce Park horticulture, and architecture. If you or a neighbor is interested in volunteering within the neighborhood, The East Cut could use tour docents, researchers and much more. Discover available volunteer positions at https://www.theeastcut.org/volunteer/
Artist Render: Credit @theeastcut
Sincerely Yours
Jasper is a convergence. Of structure and imagination. Of the classic and the eclectic. Of art and life. This 400-foot high-rise apartment building crowns San Francisco's fabled Rincon Hill and stands as an iconic addition to the city skyline. It is a statement about elegance in a place where elegance actually means something. Follow us on Facebook, YouTube, and Instagram as we share news and updates about our exciting new community. #rentjasper It's a heck of a place to call home.