Sun / 6 December 2020
Holiday Cheer at the Ferry Building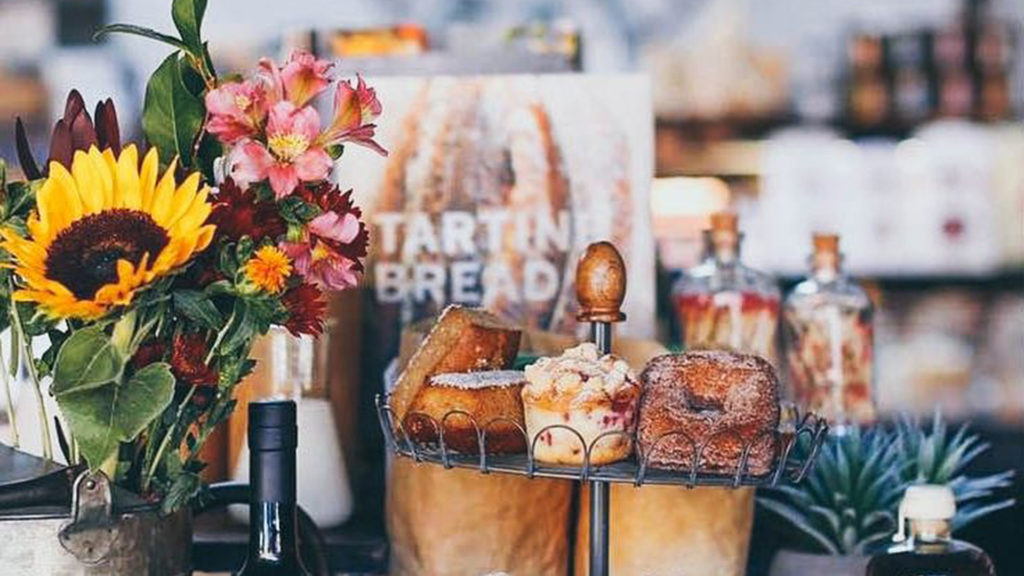 Holiday cheer is aplenty at the San Francisco Ferry Building! Enjoy your favorites and find new ones this season, just a mile from your door at Jasper. We've summarized the latest Holiday Happenings at The Ferry Building and added a few more.
Shop the Ferry Building from Home! The door-to-door delivery service is available just in time for the holidays, allowing you to support small businesses with big convenience. From Cowgirl Creamery cheese and confit to Golden Gate Meat Company bacon, Bay Crossings books and gifts, Imperial Teas, and much more! Use code FERRY10 for $10 off $35+ (valid for new Mercato users). Click here to shop.
CUESA's Winter Holiday Guide. Give the gift of good food while supporting local farmers and food crafters. The Ferry Plaza Farmers Market is open with all the makings for your holiday feasts throughout the holidays (except December 26). Check out CUESA's Farmers Market Winter Holiday Guide for unique, locally made gifts.
The Epicurean Trader is open! The beloved San Francisco-based culinary, wine, and craft spirit shop sells the brand's fan favorites like farmstead cheeses, small-batch sweets, coffees and teas + choose from an array of small plates and pastries at their full-service cafe — open every day for takeaway.
Give the gift of wine. Ferry Plaza Wine Merchant has combed through their extensive selection of artisanal wines and spirits, craft beers, and epicurean delights to bring smiles, excitement and cheer in the form of specialty gift boxes. Offering over 30 gift packages to choose from, Ferry Building shoppers can order directly at the shop or online here.
Peppermint Hot Fudge Sundae. Trading in the pumpkin for the peppermint, Humphry Slocombe is giving their Hot Fudge Sundae a holiday twist! The sundae comes with two scoops of Tahitian Vanilla, Hot Fudge, and Peppermint Candy Pieces. All for $8, all month long. 
Make it a Hog Island holiday! Gift your favorite shellfish lover a bag of succulent oysters and Hog Island swag. If you're looking for a salty stocking stuffer, grab a few canned cocktails and Hog Card Gift Cards.
Cheers to the perfect gift! Fort Point Beer Co. has the perfect gift for your beer loving friends with Fort Point Gift Boxes. Available online for $30, one box features Manzanita Smoke Altbier (the limited seasonal) and the other features Export Dortmunder Lager (a light, fizzy favorite), while both include a 6-pack, a custom glass, a printed poster, an iron-on patch, a beer postcard, and a handwritten note. Fort Point is also offering their first apparel release in years with the Fort Point Orange Beanies.
HEAD WEST at the San Francisco Ferry Building. The marketplace will be selling local goods from Bay Area makers, crafters, designers, artists, and vintage merchants at the Ferry Building's Back Plaza on Sunday, December 13th from 11am-5pm.
Sweet or savory sides. Order your 8 pack of empanadas from El Porteno in time for your holiday dinners.
Give a cup of sweetness! Carmel Honey Company has several honey holiday gift box sets available.
Bite into the New Year with Champagne Truffles.Recchiuti Confections is giving you permission to start with dessert. Their Ferry Building team is ready to help you find the perfect gift to spread Holiday cheer, like new Christmas Cheer Truffles or classic Champagne Truffles. Can't make it to the Ferry Building? Try making a batch of their decadent Champagne Truffles at home with this recipe.
Add a delicious Homemade Graham Cracker Crust to your favorite holiday desserts with the help of this recipe from CheeseQuakes.
The Ferry Building has implemented strict safety standards and guidelines so that you can shop for your locally made goods with peace of mind.
Health & Safety Measures:
Enhanced cleaning procedures
Clearly marked queuing signage
Face coverings required for all staff and visitors
Hands-free entries where possible to minimize touch points
Optimized air filtering system and maximized use of outside air
Increased curbside pickup and delivery options
One-way lanes to streamline ingress/egress
Hand sanitizing stations throughout marketplace
How can you help this holiday season?
-Wear a face covering at all times
-Utilize hand sanitizing stations
-Keep at least 6 feet distance from other visitors and staff
-Have patience
-Continue to support your Ferry Building merchants
Image credit: https://www.facebook.com/ferrybuilding
Sincerely Yours
Jasper is a convergence. Of structure and imagination. Of the classic and the eclectic. Of art and life. This 400-foot high-rise apartment building crowns San Francisco's fabled Rincon Hill and stands as an iconic addition to the city skyline. It is a statement about elegance in a place where elegance actually means something. Be sure to follow Jasper on Facebook, Twitter, YouTube and Instagram as we share news and updates about our exciting new community.  #rentjasper It's a heck of a place to call home.