Tue / 11 August 2020
Open Air Seating at the Ferry Building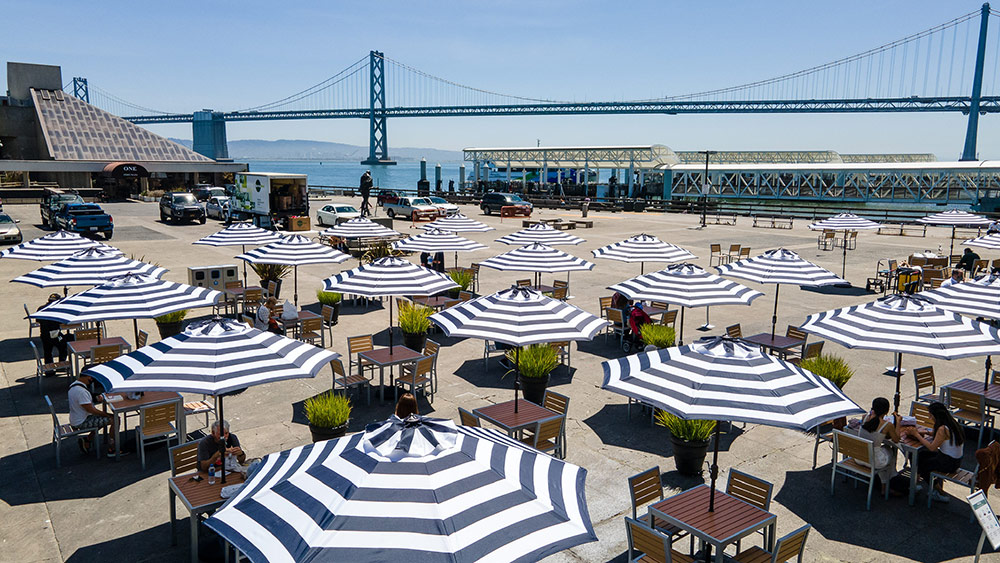 For the first time ever, the Ferry Building has expanded their outdoor seating for safely-distanced, waterfront dining. All tables are separated by a minimum of 10 feet, making the Ferry Building one of the Bay Area's largest outdoor dining venues. With the new outdoor patio, they have blurred the lines between work, play and dining. Enjoy free wi-fi, a resident DJ and all of the best bites in the Bay, just a mile from your door at Jasper.
The majority of the new seating is located along the building's back plaza, offering sweeping views of the San Francisco Bay, Bay Bridge, and Yerba Buena Island, and more than 50 large umbrellas will make the tables usable in a variety of weather conditions. Seating has also been added to the front plazas of the Ferry Building.
Take in the tunes as a resident DJ from @BFFM sets the vibes every Tuesday-Friday from 12pm to 4pm. Working while you dine outdoors? The free public wi-fi is: Network: 1 Ferry Building Guest Wi-Fi | Password: 2020!ferry
Dedicated janitorial staff will ensure the outdoor seating areas remain clean, assisting with bussing and disinfecting tables between parties. Additional hand sanitizing stations have also been added.
For your dining pleasure, below is a list of Ferry Building Merchants who currently open, with hours;
Acme Bread Company: 8am – 6pm daily
Bay Crossings: 7am – 1pm & 2pm – 6pm
Benedetta: Opening soon!
Blue Bottle: 8:30am – 4pm daily
Book Passage: 10am – 6pm Mon-Fri, 8am – 5pm Sat, 12pm – 5pm Sunday
Boulettes Larder: 2pm – 6pm Fridays, 9am – 2pm Saturdays
Cheesequakes: 3pm – 6pm daily
Cowgirl Creamery: 11am – 4pm Tues – Fri  &  8am – 2pm Saturday
Cowgirl  Sidekick: 11am – 4pm Tues – Fri  &  8am – 2pm Saturday
CUESA | Ferry Building Farmers Market: 10am-2pm Tuesday/Thursday, 8am-2pm Saturdays
Daily Driver: 8am – 2pm Sun-Fri, 8am – 3pm Saturdays
Dandelion Chocolate: 9am – 5:30pm Tues – Fri & 8am – 4pm Sat/Sun
Delica Japanese: 10am – 7pm daily
El Porteno Empanandas: 9am – 7pm daily
Far West Fungi: 11am – 5pm Thursday, 8am – 2pm Saturday
Ferry Plaza Wine Merchants: 11am – 4pm
Fort Point Beer Co.: 12pm – 8pm, Wednesday – Sunday   
Frog Hollow Farm: 7am – 2:30pm, Saturdays
glassybaby: 10am – 4pm daily
Golden Gate Meat Co.: 8 am – 4 pm daily, closed Sunday & Monday
Gott's Roadside: 10:30am – 7:30pm daily
Hog Island: 11am – 6pm – Friday – Sunday
Humphry Slocombe Ice Cream: 12pm – 7pm daily
Imperial Tea Court: 8am – 4pm Saturday only
McEvoy Ranch: 8am – 2:30pm – Thu & Sat
Miette: 10am – 2pm Tue & Thu, 8am – 2pm Saturday
Recchiuti: 11am – 4pm Thu-Fri, 10am – 2pm Saturday
Stonehouse California Olive Oil: 8 am – 2pm Saturday
Smooch Tartshop: July 11 – September 12 pop-up. 9am – 5pm Saturdays Only
The Gardener: 11am – 3pm Thursday, Friday & Sunday & 9am – 2pm Sundays
Village Market: 11am – 4pm Mon-Fri & 8am – 4pm Sunday
*For the most up-to-date list of shops and restaurants now open at the Ferry Building, click here.
Added August fun:
Back by popular demand, the Secret Smores Sundae is now available at Humphry Slocombe! Secret Smores Sundae includes 1 scoop of Secret Breakfast, graham crackers, hot fudge and torched marshmallow fluff. Available all month long.
Fans of Ferry Plaza Wine Merchant and Boulibar, rejoice! Thanks to a brand new pop-up at the Ferry Building, you no longer have to choose between Boulibar's delicious eats and Ferry Plaza Wine's curated booze.
Gott's Roadside now offers spacious outdoor dining with three delicious specials for August: Strawberry Lemonade, Mexican Street Corn and Heirloom Tomato "A" BLT.
With beautiful summer strawberries everywhere, now is the perfect time to make Michael Recchiuti's recipe for Strawberry Shortcake at home.
Every Saturday through September 12th Smooch Tartshop will be bringing their globally-inspired artisan tarts to the Ferry Building with flavors like Drunken Pear, Blackberry Macaroon, Ube Coconut, and Bourbon Pecan.
Restoration News:
Hudson Pacific Properties and Allianz Real Estate are committed to ensuring the Ferry Building continues to be a vibrant, historic and critical part of the city's fabric. They need to restore and repair parts of the building, including the façade, which have suffered the effects of natural weathering.
What's the new hue? The color of the Ferry Building will be restored to its original gray color when it was designed by architect A.P. Brown in 1898. The building was constructed from gray-colored Colusa sandstone, a common turn-of-the-century building material that was mined in Northern California's Colusa County and can be seen throughout downtown San Francisco buildings. Sherwin-Williams has custom blended a "Ferry Building Gray" color available for a limited time exclusively at Sherman-Williams Commercial Paint Store at 320 4th Street in San Francisco. The project is expected to take approximately two years to complete.
As more merchants prepare to reopen, The Ferry Building has even stricter safety standards and guidelines so that you can shop for your locally made goods with peace of mind.
Health & Safety Measures:
Enhanced cleaning procedures
Clearly marked queuing signage
Face coverings required for all staff and visitors
Hands-free entries where possible to minimize touch points
Optimized air filtering system and maximized use of outside air
Increased curbside pickup and delivery options
One-way lanes to streamline ingress/egress
Hand sanitizing stations throughout marketplace
How can you help?
Wear a face covering at all times in the building. Covering your face is now mandatory and helps prevent the spread of COVID-19. Masks, bandannas, scarves and cloth can be used.
Utilize hand sanitizing stations
Keep at least 6 feet distance from other visitors and staff
Have patience
Continue to support your Ferry Building merchants
Image credit: https://www.ferrybuildingmarketplace.com
Sincerely Yours
Jasper is a convergence. Of structure and imagination. Of the classic and the eclectic. Of art and life. This 400-foot high-rise apartment building crowns San Francisco's fabled Rincon Hill and stands as an iconic addition to the city skyline. It is a statement about elegance in a place where elegance actually means something. Be sure to follow Jasper on Facebook, Twitter, YouTube and Instagram as we share news and updates about our exciting new community.  #rentjasper It's a heck of a place to call home.