Fri / 31 July 2020
Guy Place Mini Park is Open!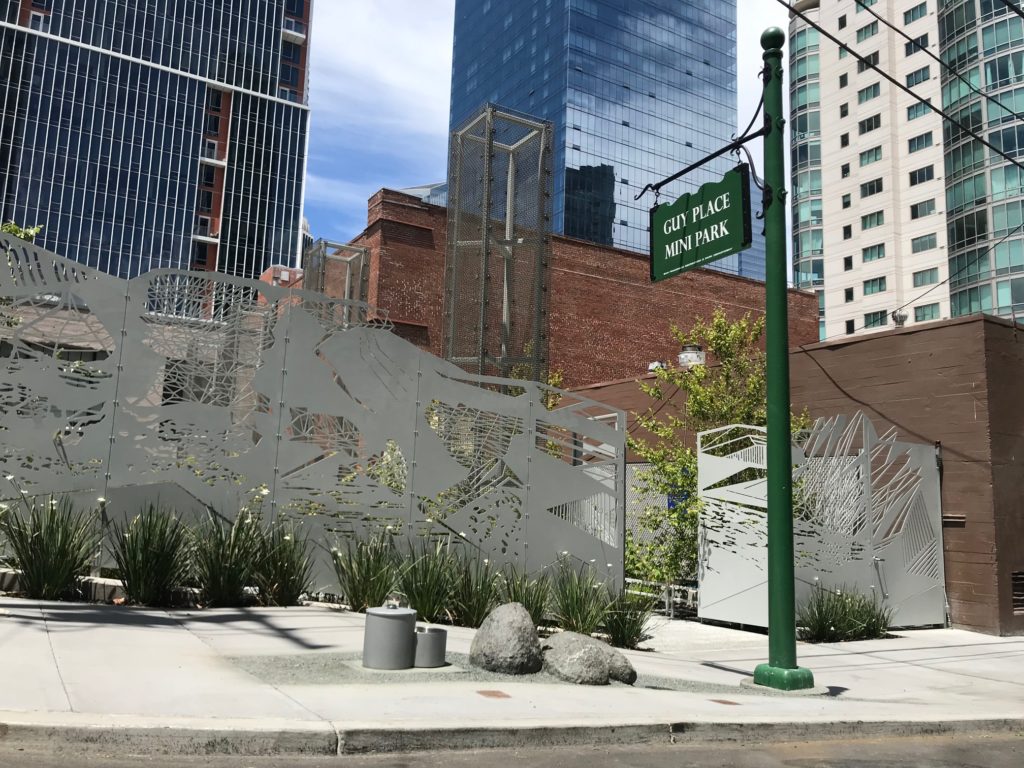 There is a new open space in the neighborhood! Stroll a mere 2 minutes from Jasper and you'll find Guy Place Mini Park, a 3,500-square-foot mini park, located on Guy Place near 1st Street. Near the approach to the Bay Bridge and steps from the Transbay Transit Center, the project puts the green oasis at the heart of San Francisco's fastest growing neighborhood.
The new park features three defined outdoor spaces, or "rooms," with different landscapes including native California grapevines, a steel fence designed by artist Adriane Colburn, and a sidewalk bulb-out with a pet fountain and relief area.
The East Cut reported, "Inside the park, high quality materials such as granite slabs, along with steel and concrete benches and a mix of plant materials have been utilized. One notable planting feature are the climbing vines growing upwards on greenscreen cages; the concept being that over time, the vines will grow to cover the cage to create "living" columns."
"Adriane Colburn's fence design is meditative and modern in the way it evokes the site's history and topography," says Director of Cultural Affairs Tom DeCaigny to SF Rec & Park. "It ties a bow around this beautiful new urban oasis."
The "Geologic Ghost," is a waterjet-cut steel fence designed by artist Adriane Colburn, who was inspired by both the geology and history of Rincon Hill, which was partially removed in the late 1800's to accommodate the 2nd Street corridor. Colburn used historic maps to reconstruct the topography of the hill, then created a 3-D model to generate the structure of the fence. Its designs were created with attributes of graywacke, the most common rock in the area.
"The Arts Commission is excited to see local artist Adriane Colburn's beautiful cut steel gates at the threshold of the Guy Place Mini Park in Rincon Hill. Her vision and scholarly rigor–referencing the physical and historical nature of the neighborhood–enriches the downtown location with meditative patterns inviting and the public to enter and enjoy this urban green space," said the Commission's Acting Director of Cultural Affairs Rebekah Krell.
The park is open from 8am to 8pm daily. Be sure check out this new public space and share your adventures with us on Instagram! Take a peek inside the park with this video tour: https://youtu.be/Vna9jsp770Y
"I am thrilled to see a brand new park for the SOMA community," said Supervisor Matt Haney, also in a prepared statement. "This is the result of many years of neighborhood advocacy, and residents here were integral to making this space a reality. I'm excited to continue working with Rec and Park to bring more parks to District 6."
The Royal Treatment
In ancient Greece, any guest could be a god. That's how we think of our residents and the folks they invite over. It translates to more than just respectful customer service. It means genuine empathy and concern for people's well-being. Our 24/7 on-site staff obsess over details to make your home life warm and comfortable. You can hit them up for anything from laundry pickup and local organic food delivery to dog walking and excursion planning. Friendliness begets friendliness. Joy yields more joy. That's what it's all about. Discover new, luxury San Francisco apartments at Jasper in Rincon Hill. Be sure to follow Jasper on Facebook, Twitter, YouTube and Instagram as we share news and updates about our exciting new community. #RentJasperIt's a heck of a place to call home.