Wed / 17 May 2023
Ferry Building Events – Something for Everybody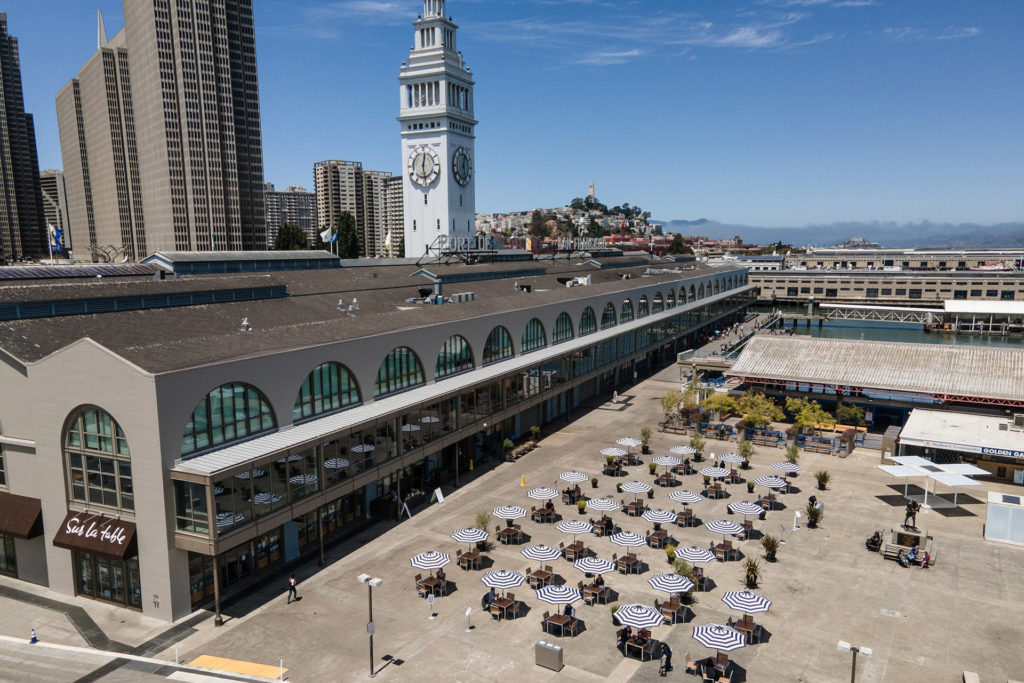 Living at Jasper in The East Cut puts you in the heart of a vibrant and dynamic San Francisco neighborhood, with numerous social venues to keep you fully entertained. Did you know that nearby San Francisco Ferry Building is more than shopping, dining and farmers' markets; it also hosts a number of entertaining and engaging events and gatherings.
The events page on their official site lists all of the upcoming events, so scheduling your social calendar is a breeze. Peruse the site for regular, recurring events as well as unique events.  You'll find such events as Live Music, Wine Tasting, Community Yoga and Movie Night, just to name a few.
Below is a list of some of the recurring events at the San Francisco Ferry Building.
Free Community Yoga
Join the fun at the free yoga series with a beautiful waterfront view, peaceful vibes and feel-good, enlivening movement for your Wednesday lunch break. The Outdoor Yoga and Ferry Building communities have partnered up with the intention of rebuilding community and connection, to create an offering for our community feel healthy and happy with yoga and to support our local merchants. Be sure to stay and enjoy lunch after class.
Live Music on The Plaza – Lunchtime and Happy Hour
Enjoy lunch and live music from 12:00 – 1:00 PM on the Ferry Building's Back Plaza featuring Bay Area musicians every Wednesday in May. Grab your Ferry Building favorites inside the Marketplace and soak up a picture-perfect bay setting! Can't make lunch on Wednesdays? The music and fun continues on Thursdays in May from 4:00 – 6:00 PM for Happy Hour and dinner options.
Wednesday Flight Night
Wine tasting on the waterfront. Taste some of the world's most rare and celebrated wines and meet the people who make them famous. This is a great opportunity to enjoy delicious wines and chat in an intimate, personal, yet casual atmosphere with the types of artisanal producers from around the globe featured at the Ferry Plaza Wine Merchant. All wine events are on Wednesdays, 4PM – 7PM, unless otherwise stated. View the schedule here! These events are open to everyone, and the only cost is for the flight of the wine. All tasting events are 21+.
Ferry Flicks
Enjoy happy hour pint specials, dinner and movies at the Fort Point Beer Garden! Seating is limited, be sure to reserve your tickets. Tickets include picnic table seating inside the Fort Point Beer Garden and snacks (as indicated per ticket). Enjoy $5 draft pours before the show at Happy Hour from 5pm – 8:00pm, additional food & beverage will be available for purchase all evening. Movies begin at sunset.
In addition to the recurring events, the unique events you'll find in May and June are The Art of Sushi Making, Head West Maker Marketplace, Father's Day Activities, Gardeneur Plant Market, Cookie Decorating Class and the 6th Annual Black Food & Wine Experience. 
Be sure to check their site often;  it's a wonderful resource and an excellent way to support local vendors.
Have fun!
Image credit: San Francisco Ferry Building on Facebook
Sincerely Yours
Jasper is a convergence. Of structure and imagination. Of the classic and the eclectic. Of art and life. This 400-foot high-rise apartment building crowns San Francisco's fabled Rincon Hill and stands as an iconic addition to the city skyline. It is a statement about elegance in a place where elegance actually means something. Be sure to follow Jasper on Facebook and Instagram as we share news and updates about our exciting new community. #rentjasper It's a heck of a place to call home.