Mon / 2 January 2023
Welcome to Pantone's Magentaverse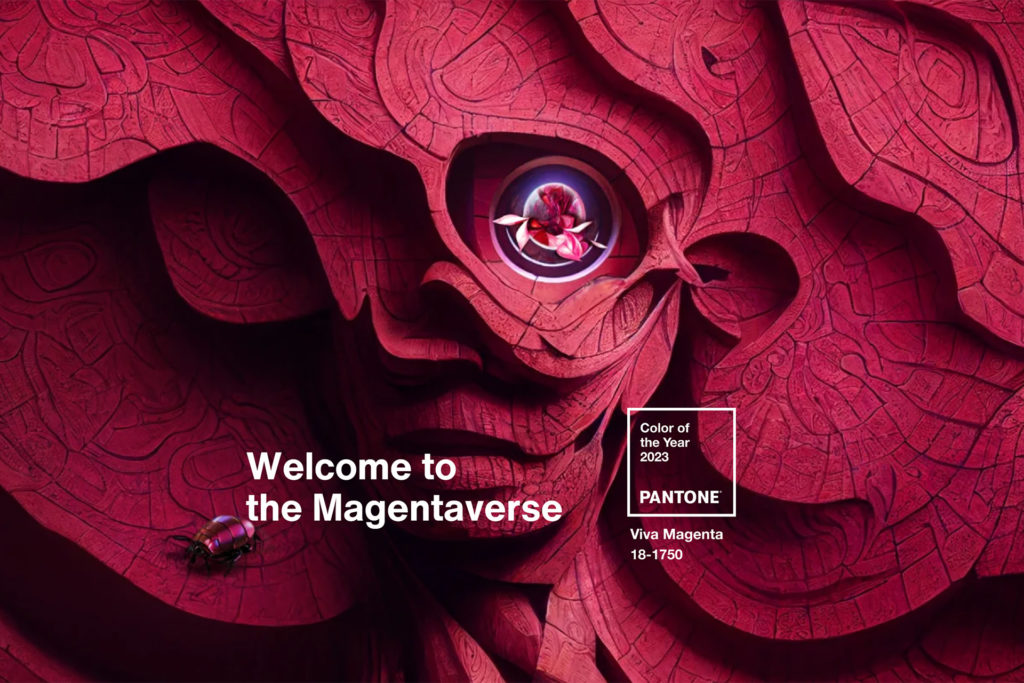 An upcoming new year deserves a new color to set the mood. Look no further than Pantone's Color of the Year, Viva Magenta 18-1750.
Pantone's official site describes this exciting new color for 2023:
Pantone's Color of the Year, Viva Magenta 18-1750, vibrates with vim and vigor. This bold color vibrates with vim and vigor. It is a shade rooted in nature descending from the red family and expressive of a new signal of strength. Viva Magenta is brave and fearless, and a pulsating color whose exuberance promotes a joyous and optimistic celebration, writing a new narrative.
This year's Color of the Year is powerful and empowering. It is a new animated red that revels in pure joy, encouraging experimentation and self-expression without restraint, an electrifying, and a boundaryless shade that is manifesting as a stand-out statement. PANTONE 18-1750 Viva Magenta welcomes anyone and everyone with the same verve for life and rebellious spirit. It is a color that is audacious, full of wit and inclusive of all.
Here are a few ways to introduce your Jasper space to the vibrant and uplifting color of Viva Magenta:
Start Small. Pillows, throw blankets, wall art and other decorations offer a simple and effective way to try out Pantone's color of the year.
Make your Kitchen Pop. You spend a lot of time with meal prep, so your kitchen is a great place to use accents like glassware, towels and wall clocks.
Bedrooms Decor. Introduce Viva Magenta with bedding and accent pillows. Vases, picture frames and other personal items are also a wonderful way to introduce the color.
The Pantone Color Institute is the business unit within Pantone that highlights top seasonal runway colors, forecasts global color trends, and advises companies on color for product and brand visual identity. Through seasonal trend forecasts, color psychology, and color consulting, Pantone Color Institute partners with global brands to effectively leverage the power, psychology, and emotion of color in their design strategy. The Color of the Year selection process requires thoughtful consideration and trend analysis. To arrive at the selection each year, Pantone's color experts at the Pantone Color Institute comb the world looking for new color influences.
For over 20 years, Pantone's Color of the Year has influenced product development and purchasing decisions in multiple industries, including fashion, home furnishings, and industrial design, as well as product packaging and graphic design.
How did Pantone arrive at the decision to pick this color for 2023? Here is some insight from the Pantone site.
"In this age of technology, we look to draw inspiration from nature and what is real. PANTONE 18-1750 Viva Magenta descends from the red family, and is inspired by the red of cochineal, one of the most precious dyes belonging to the natural dye family as well as one of the strongest and brightest the world has known.
Rooted in the primordial, PANTONE 18-1750 Viva Magenta reconnects us to original matter. Invoking the forces of nature, PANTONE 18-1750 Viva Magenta galvanizes our spirit, helping us to build our inner strength." – Leatrice Eiseman, Executive Director, Pantone Color Institute
So bring some Pantone Color of the Year for 2023 into your home at Jasper; it's a wonderful way to usher in the new year.
Image credit: Pantone
The Royal Treatment
In ancient Greece, any guest could be a god. That's how we think of our residents and the folks they invite over. It translates to more than just respectful customer service. It means genuine empathy and concern for people's well-being. Our 24/7 on-site staff obsess over details to make your home life warm and comfortable. You can hit them up for anything from laundry pickup and local organic food delivery to dog walking and excursion planning. Friendliness begets friendliness. Joy yields more joy. That's what it's all about. Discover new, luxury San Francisco apartments at Jasper in Rincon Hill. Be sure to follow Jasper on Facebook, Twitter, YouTube and Instagram as we share news and updates about our exciting new community. #rentjasper It's a heck of a place to call home.