Thu / 13 October 2022
Halloween Movies For Some Fall Fun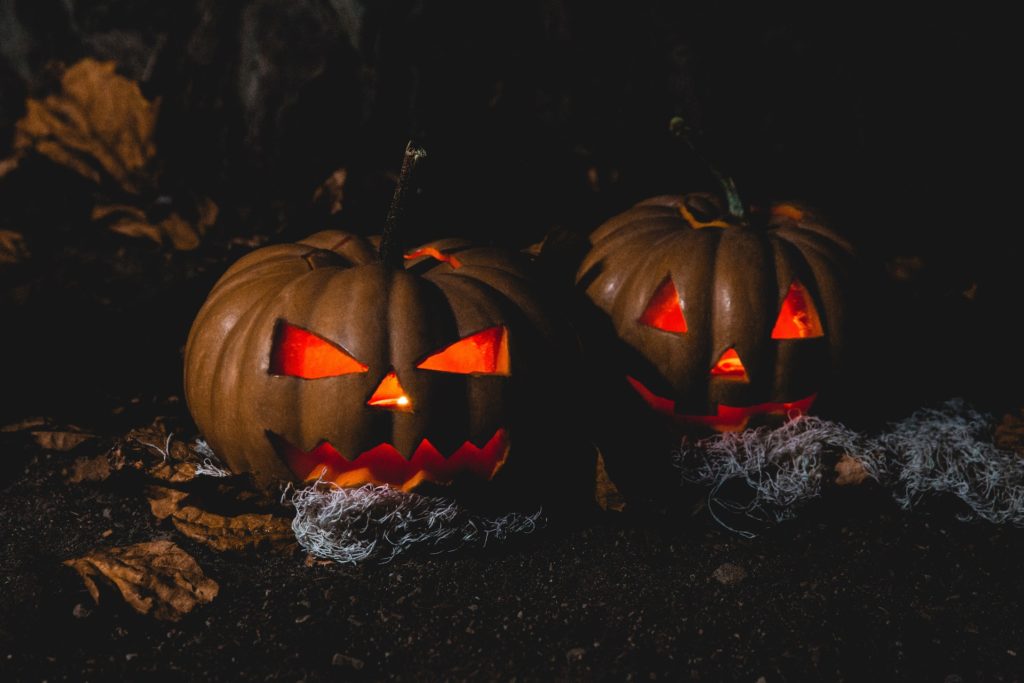 Fall is here and that means that Halloween is just around the corner. It's time to cozy up on the couch and watch your favorite movies of the season. Order delivery by a local food favorite, fire up your preferred streaming service and make a night of it! Here's a few of our favorite movies sure to get you in the Halloween "Spirit".
The Universal Classics
Dracula: The ancient vampire Count Dracula arrives in England and begins to prey upon the virtuous young Mina.
Frankenstein: An obsessed scientist assembles a living being from parts of exhumed corpses.
Bride of Frankenstein: Having survived the ordeal in Frankenstein, the good Dr. Frankenstein (goaded by an even madder scientist) builds his monster a mate.
Scary Stuff
Night of the Living Dead: George Romero's masterpiece introducing a new genre that is still going strong today. A group of people hide from bloodthirsty zombies in a farmhouse.
The Shining: A writer becomes caretaker of an isolated hotel and soon discovers the hotel's dark secrets, transforming him into a maniac terrorizing his family.
Halloween: Halloween all but invented an entire sub-genre of slasher horror movies, those that take place on All Hallows' Eve. There is a bit of gore, but the suspense is what defines this John Carpenter classic.
The Haunting: A scientist doing research on the paranormal invites two women to a haunted mansion. One of the participants soon starts losing her mind. It's an oldie, but a goodie.
The Conjuring: Paranormal investigators work to help a family terrorized by a dark presence in their farmhouse.
The Others: A woman who lives in a darkened old house with her two photosensitive children becomes convinced that her family home is haunted.
Not-So-Scary
Hocus Pocus: Three witches who are on a hunt for eternal youth on Halloween. A heroic young trick-or-treater falls into their clutches when her older brother wakes them from a deep sleep.
ParaNorman: The main character, Norman, is just your average kid who sees dead people.
The Nightmare Before Christmas: Tim Burton's now-classic film is one of the rare movies that works well as both a Halloween and a Christmas movie.
Frankenweenie: The movie is not only a wonderful homage to the 1931 film Frankenstein, but also to B-horror movies of the 1950s.
It's The Great Pumpkin, Charlie Brown: This holiday treat from the Peanuts gang focuses on Charlie Brown's right-hand man, Linus, as he waits for the mysterious Great Pumpkin. A classic.
Edward Scissorhands: Tim Burton's masterpiece. A gentle man, with scissors for hands, is brought into a new community after living in isolation. Danny Elfman's soundtrack really makes this a wonderful movie. Bring a hankie.
Young Frankenstein: A hilarious twist on a creepy classic. If you loved Gene Wilder in Willy Wonka and the Chocolate Factory, then this one can't be missed.
So load up your watch list and enjoy your Halloween experience this season!
Photo by Toni Cuenca
The Royal Treatment
In ancient Greece, any guest could be a god. That's how we think of our residents and the folks they invite over. It translates to more than just respectful customer service. It means genuine empathy and concern for people's well-being. Our 24/7 on-site staff obsess over details to make your home life warm and comfortable. You can hit them up for anything from laundry pickup and local organic food delivery to dog walking and excursion planning. Friendliness begets friendliness. Joy yields more joy. That's what it's all about. Discover new, luxury San Francisco apartments at Jasper in Rincon Hill. Be sure to follow Jasper on Facebook, Twitter, and Instagram as we share news and updates about our exciting new community. #RentJasper It's a heck of a place to call home.