Thu / 25 August 2022
The Jasper Agenda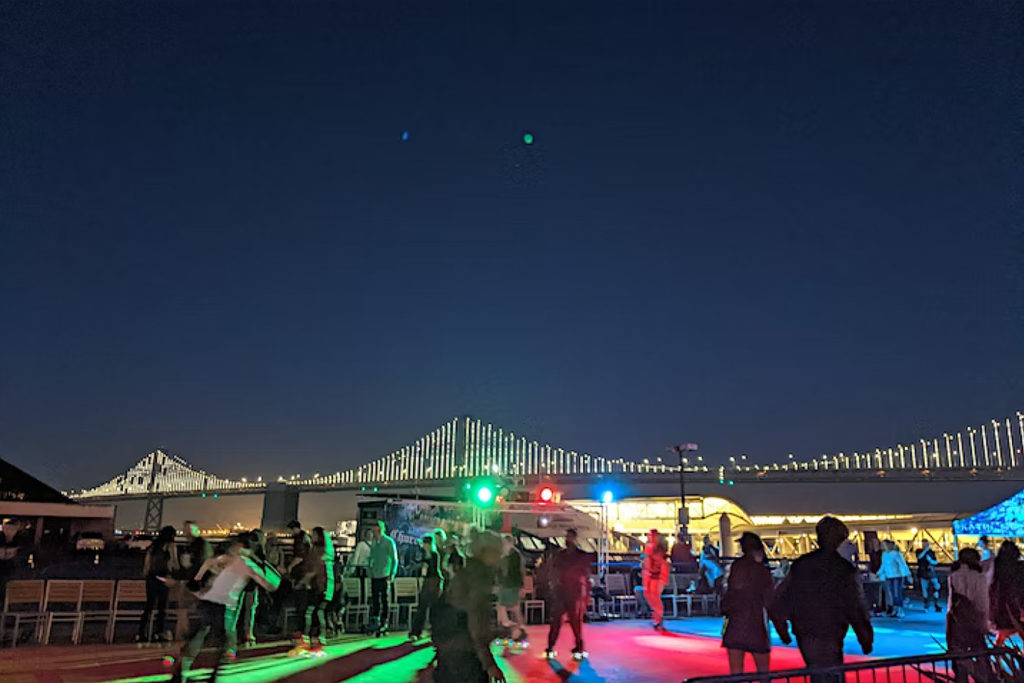 Life at Jasper puts you in the center of excitement each and every month. September is bursting with a variety of must attend events to the City. We've rounded up a few that include yoga, Bollywood nights, cooking demos, movies at The Crossing, and much more. Map out your month here:
September 1, First Thursdays at SFMOMA. From 1–8pm on the first Thursday of every month, Bay Area residents can enjoy SFMOMA's galleries filled with lively and inspiring art — for free.
September 2, Noise Pop TV Party: High Fidelity. Join The Cut Outdoor Cinema at The Crossing at Noise Pop for a series of special screenings featuring your favorite music-centric flicks!
September 2-4, Movies at The Cut Outdoor Cinema at The Crossing. Enjoy an open-air theater experience featuring a handpicked selection of iconic favorites, cult classics, and local community film programming.
September 2, 9, 16, 23 + 30, Ferry Fridays. Enjoy weekly live music on the Ferry Building's Back Plaza featuring Bay Area musicians while noshing on your favorite Ferry Building refreshments.
September 3, Linda Tay Esposito, Flavor Explosions. Stop by the Foodwise Classroom for a cooking demo featuring the seasonal bounty of the Ferry Plaza Farmers Market.
September 3, Summer Dance Music Series! Bring your friends, family, and neighbors, grab some lunch in The Square and enjoy live local acts from San Francisco and the Bay Area.
September 4, Head West. A Local, Outdoor Retail Marketplace in partnership with the SF Ferry Building.
September 9, Comedy at The Crossing. Join The Crossing at East Cut for a night filled with laughs, drinks, bites, and more, featuring top rising comedians from the Bay Area.
September 10, Bike The Bay. Riders visit the North Bay, East Bay, South Bay, Peninsula, and finish back in SF at the Ferry Building.
September 11, Gardeneur Plant Market. Come and shop the largest plant market in the bay area at the SF iconic Ferry Building.
September 15, Fiesta Patrias. Celebrate Fiesta Patrias and Hispanic Heritage Month at Davies Symphony Hall with the spectacular 'Mexico Lindo' show.
September 16, Azucar Fridays @ The Crossing at East Cut. Grab your dancing shoes and head down to The Crossing for a tutorial in Bachata Dance and Latin Beats in the Beer Garden.
September 17, Sights & Bites East Walking Tour. The Sights & Bites Center Tour is a journey through public art and neighborhood eateries, focusing on the central part of The East Cut.
September 17, Saturday Night Skate. Experience the waterfront like never before with Ferry Building's first ever outdoor skate pop-up, hosted by the legendary Church of 8-Wheels.
September 21, Dance Outdoors with Rhythm & Motion. Weekly classes will be held on Wednesdays from 11am – noon on the Yerba Buena Gardens Esplanade.
September 22, Bollywood Nights at Salesforce Park. Learn a combination of a 45 minute Bollywood or Bhangra dance lesson that will leave you feeling loved, lighter, and delighted in excitement every week.
September 23, Opening Night at SF Symphony. Music Director Esa-Pekka Salonen leads in an imaginatively entertaining presentation of Felix Mendelssohn's jovial music to 'A Midsummer Night's Dream'.
September 24, LuxFit Outdoor Yoga under the Palms at The Crossing at East Cut. This energizing yoga-based workout is a hybrid of power yoga, bodyweight movements, mobility drills and more.
September 25, Jammin' at The Crossing. Get jammin' the last Sunday of each month for music class and bond with your child.
September 28, Sights & Bites West Tour. Join the 90-minute East Cut walking tour covering many of the "sights" and even a few "bites" in our amazing neighborhood.  
September 29, Peanuts Day. Celebrate the legacy of Charles M. Schulz, the beloved comic strip author and longtime Bay Area resident. Your Special Event ticket includes a limited-edition Giants-themed Peanuts item.
Image credit: San Francisco Ferry Building Eventbrite
Sincerely Yours
Jasper is a convergence. Of structure and imagination. Of the classic and the eclectic. Of art and life. This 400-foot high-rise apartment building crowns San Francisco's fabled Rincon Hill and stands as an iconic addition to the city skyline. It is a statement about elegance in a place where elegance actually means something. Be sure to follow Jasper on Facebook, Twitter, YouTube and Instagram as we share news and updates about our exciting new community.  #rentjasper It's a heck of a place to call home.