Tue / 26 July 2022
Sneak Preview at The Cut Outdoor Cinema on July 28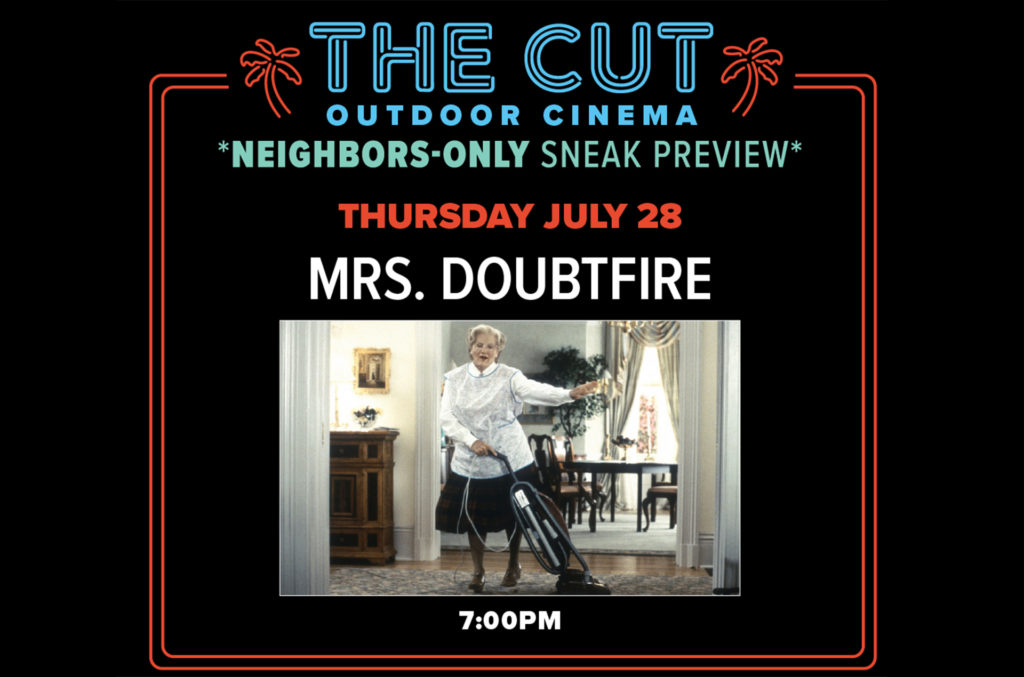 We are so excited to hear that The Cut Outdoor Cinema is offering a FREE sneak preview showing this Thursday, July 28, of Mrs. Doubtfire exclusively for East Cut residents! 
Featuring a 23′ LED screen that's viewable day or night, premium headphones for hi-fi audio, comfy lounge chairs and bean bags with cozy blankets, you'll be the first to experience San Francisco's only outdoor cinema. Popcorn and all your favorite concessions will be available on site. No outside food or drinks.

Tickets are available here with discount code NEIGHBORSNEAK starting at 6:00pm today!  

All seating is first come first served, limited to 2 tickets per person.  Arrive early to score the premium bean bag seats! 

Mrs. Doubtfire (1993, PG-13)
The Cut Outdoor Cinema (250 Main St.)
Thursday, July 28th 7:00pm (Doors open at 6:00pm)
About The Cut
The Cut Outdoor Cinema at The Crossing is the Bay's first year-round outdoor cinema, offering an unforgettable open-air theater experience and featuring a handpicked selection of iconic favorites, cult classics, and local community film programming.
Image credit: The East Cut
Sincerely Yours
Jasper is a convergence. Of structure and imagination. Of the classic and the eclectic. Of art and life. This 400-foot high-rise apartment building crowns San Francisco's fabled Rincon Hill and stands as an iconic addition to the city skyline. It is a statement about elegance in a place where elegance actually means something. Be sure to follow Jasper on Facebook, Twitter, YouTube and Instagram as we share news and updates about our exciting new community.  #rentjasper It's a heck of a place to call home.