Fri / 29 October 2021
Explore Nearby Public Open Spaces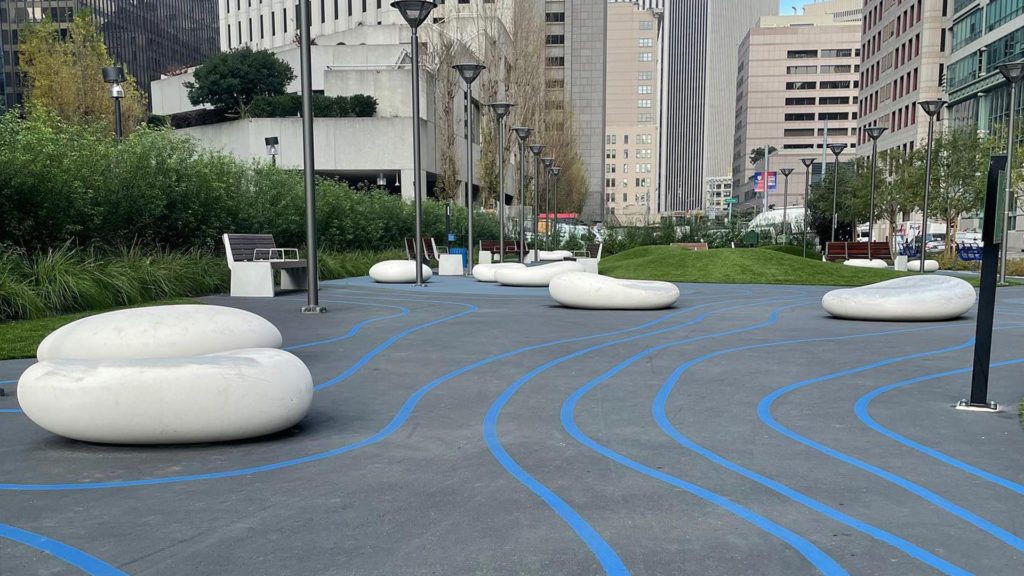 Did you know that The East Cut is home to 40+ POPOS? What is a POPOS? POPOS stands for Privately Owned Public Open Space and can take the form of a plaza, terrace, atrium, or small space. Each space is uniquely designed with public enjoyment in mind. San Francisco has 70 POPOS with over 40 of those in The East Cut alone!
The East Cut website is a wonderful resource for POPOS locations. They often showcase individual location on their social channels. Here is the listing of the latest POPOS being featured on The East Cut's Facebook page.
This week, presenting the Park Tower POPOS!
The Park Tower POPOS at 250 Howard are a couple of the newest POPOS in the neighborhood. So new they're not yet in our Open Space Inventory document! Opened to the public in 2019, the Park Tower POPOS exist in two spaces on the east and west sides of 250 Howard (one fronting Main Street, and one fronting Beale Street).
The designs were completed by Andrea Cochran Landscape Architecture, and feature an asphalt surface with sweeping blue lines, guiding pedestrians and creating site lines throughout. There are multiple seating types, including @concreteworks SoMa Stones, wood benches, and artificial turf mounds, which create a touch of visual interest and a nice spot to sit on a sunny day. In the Main Street POPOS, Chinese Elm trees dot the perimeter and provide a shady spot to sit in East Cut-colored @mmcite_usa benches. Lastly, the spaces have tons of lighting, making the POPOS a safe and inviting spot in the evening hours.
Be sure to check out these spaces after your visit to @eastcutcrossing , as they are just across Howard Street to the north!
Plan your Day. Head over to the The East Cut site which offers you the ability to filter through your choices of POPOS amenities. These filters include Greenery, Food + Beverage, Public Art, Fixed Seating, Moveable Seating, Restrooms, Bicycle Facilities and Pet Friendly. It's a great resource to plan your next excursion in the neighborhood we love to call "home".
Image credit: The East Cut on Facebook
The Royal Treatment
In ancient Greece, any guest could be a god. That's how we think of our residents and the folks they invite over. It translates to more than just respectful customer service. It means genuine empathy and concern for people's well-being. Our 24/7 on-site staff obsess over details to make your home life warm and comfortable. You can hit them up for anything from laundry pickup and local organic food delivery to dog walking and excursion planning. Friendliness begets friendliness. Joy yields more joy. That's what it's all about. Discover new, luxury San Francisco apartments at Jasper in Rincon Hill. Be sure to follow Jasper on Facebook and Instagram as we share news and updates about our exciting new community. #RentJasper It's a heck of a place to call home.