Wed / 2 June 2021
12 Favorite SF Spots for Summer Picnics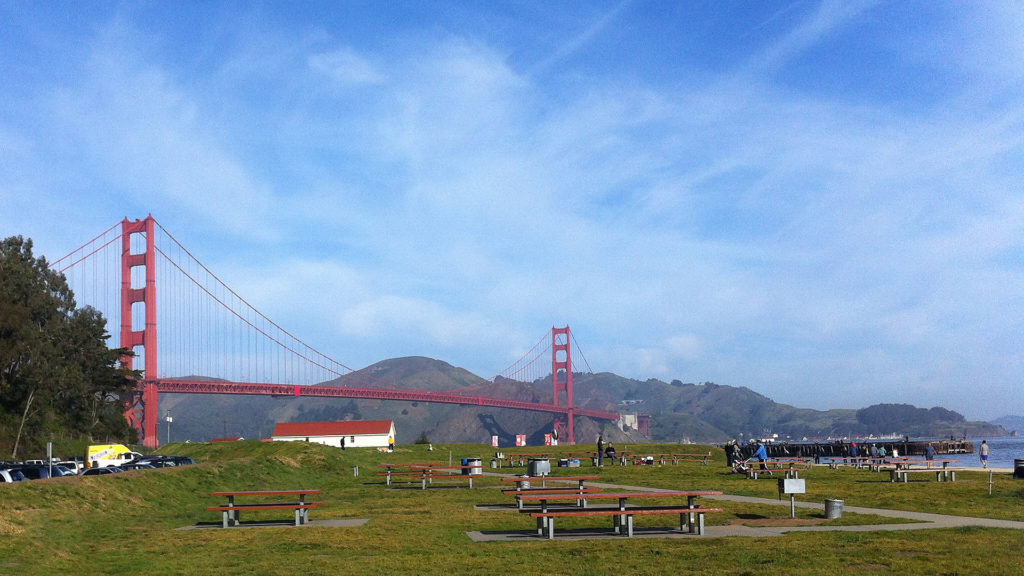 We've gathered up a dozen reasons why San Francisco has the perfect picnic spots for you to explore this summer. So grab your favorite tote bag and head to one of these City spots to enjoy your al fresco afternoon meal in the sun.
Salesforce Park, 425 Mission Street, 0.4 miles from Jasper.
You'll find plenty of places to picnic at Salesforce Park. Seventy feet above the Grand Hall, the Park runs the entire length of the Transit Center's nearly four-block stretch. Home to 600 trees and 16,000 plants arranged in 13 different botanical feature areas.
South Park, 64 South Park Avenue, 0.7 miles from Jasper.
Immerse yourself in city vibes at this nearby park. The benefits of a multi-million dollar 2017 renovation made this midday getaway spot one of the most inviting and user-friendly greenspaces in the city.
Yerba Buena Gardens, 750 Howard Street, 0.8 miles away from Jasper.
You can have a picnic right in the middle of the city at Yerba Buena Gardens. Relax amid landscaped lawns, serene waterfalls and colorful gardens at the cultural heart of San Francisco.
Alamo Square, Hayes and Steiner, 3 miles from Jasper.
Bring your pup, pack a picnic and lunch with the Painted Ladies. Don't forget your camera: historic Alamo Square offers quintessential scenes of the City, including the famous Postcard Row.
Mission Dolores Park, 18th Street & Dolores Street, 3 miles from Jasper.
Summer City days call for park playtime and picnics with 15 acres of land offering an abundance of grassy lawns. Lounge, walk the dog and enjoy spectacular views of the city's skyline and beyond.
Golden Gate Park, 4 miles from Jasper.
This gorgeous space offers a number of official picnic areas that include picnic benches and spacious areas to lay down your blanket.
Crissy Field, 1199 East Beach, 4.6 miles from Jasper.
You'll find beaches, picnic tables, tidal marsh overlooks, and renowned windsurfing. The restored Crissy Field is a stunning place to walk or bike on a flat, hard-packed promenade with iconic views of the Bay and Golden Gate Bridge.
Billy Goat Hill, 2442 Castro Street, 5.6 miles from Jasper.
Work up an appetite for your picnic as you make your way to the top! This hilltop park in the Diamond Heights neighborhood has amazing views of the city and bay, and a mix of urban forest and grassland plant communities.
West Bluff Picnic Area, Long Street, 5.7 miles from Jasper.
There are many large picnic tables here, along with barbeque pits and stunning views of Alcatraz, Angel Island, and the Marin Headlands.
McLaren Park, 2075 Burrows Street, 6.1 miles from Jasper.
At 313 acres, McLaren Park is San Francisco's second largest park. With five picnic areas, trails, paths, playgrounds, sports courts, an amphitheater, natural areas, a clubhouse, an off-leash dog play area, reservoir, lake, marsh, and sweeping vistas of downtown San Francisco – this is an ideal picnic spot.
China Beach, 6.1 miles from Jasper.
This tiny cove is tucked between Lands End and Baker Beach and features a picnic area, and spectacular views of the Marin Headlands and Golden Gate. There are five picnic tables and two bbq grills for public use next to the recreation building, but you can bring a blanket and have a picnic on the beach.
Stern Grove, 19th Avenue and Sloat Boulevard, 8.4 miles from Jasper.
Each summer, the Stern Grove Festival presents 10 free concerts featuring a curated mix of popular headliners. The Big Picnic is coming up on August 17, 2021. Bring a picnic and relax on the groomed lawn amid eucalyptus and pine groves. There's more than music on the menu: historic Stern Grove is a full outdoor recreation complex with athletic fields, courts, a children's playground and dog play area.
The Royal Treatment
In ancient Greece, any guest could be a god. That's how we think of our residents and the folks they invite over. It translates to more than just respectful customer service. It means genuine empathy and concern for people's well-being. Our 24/7 on-site staff obsess over details to make your home life warm and comfortable. You can hit them up for anything from laundry pickup and local organic food delivery to dog walking and excursion planning. Friendliness begets friendliness. Joy yields more joy. That's what it's all about. Discover new, luxury San Francisco apartments at Jasper in Rincon Hill. Be sure to follow Jasper on Facebook, Twitter, YouTube, and Instagram as we share news and updates about our exciting new community. #RentJasper It's a heck of a place to call home.