Mon / 8 March 2021
Irish Coffee at The Buena Vista Cafe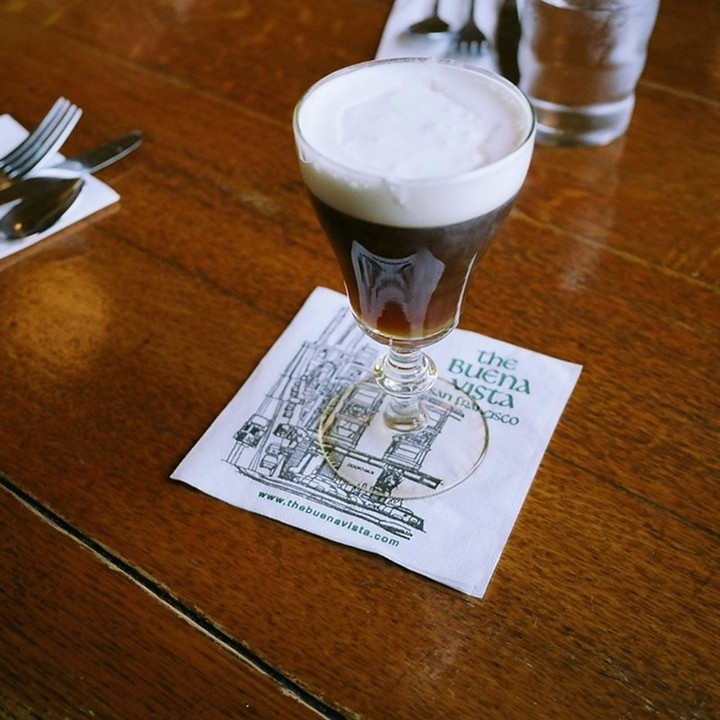 With St. Paddy's Day just around the corner, we thought it would be nice for you to be able to up your Irish game, with a little help from a San Francisco icon, The Buena Vista Cafe.
Irish coffee. Hot coffee combined with Irish whiskey and topped with cream was first served at The Buena Vista Cafe on Hyde Street @Beach in San Francisco in the 1950s. It's become a staple in San Francisco. According to bartender Paul Nolan, who's been a bartender at The Buena Vista for more than 40 years, the cafe serves about 2,000 on a slow day. See how an Irish Coffee is made and try it for yourself!
"It's no surprise that the Irish Coffee was invented in Ireland. Conceived by a chef named Joe Sheridan it was only made famous in America when journalist Stan Delaplane, was served one while passing through Ireland in 1951. By then the Irish Coffee had already gained popularity in Ireland and had become the house welcome drink at the airport. When Stan returned to San Francisco, he told his friend, and owner of The Buena Vista Café, Jack Koeppler, about the delicious drink he had tried. They tried reproducing it on their own, but it never seemed to come out like the original. They just couldn't get the cream right. After much experimentation and a trip back to Ireland, the two finally found success. The Buena Vista Irish Coffee was born", writes On Better Living Travel Blog.
It's easier to make than you might think. Just follow the ingredient list and directions below.

INGREDIENTS – Serves 1
6 ounces brewed coffee – Breakfast Blend roast from local Oakland, CA coffee roaster Peerless Coffee & Tea.
You can grab the exact Peerless Coffee & Tea Breakfast Blend in a whole bean 2 lb. bag on Amazon.
2 sugar cubes
1 and ½ ounces Irish Whisky (one jigger) – Tullamore D.E.W. (their Irish whiskey of choice)
Whipped cream
DIRECTIONS
Fill glass with very hot water to pre-heat, then empty.
Pour hot coffee into hot glass until it is about three-quarters full.
Drop in two cocktail sugar cubes.
Stir until the sugar is thoroughly dissolved.
Add full jigger of Irish Whiskey for proper taste and body.
Top with a collar of whipped cream by pouring gently over a spoon.
Enjoy it while piping hot.
Happy St. Patrick's Day!
Image credit : The Buena Vista Cafe on Instagram
The Royal Treatment
In ancient Greece, any guest could be a god. That's how we think of our residents and the folks they invite over. It translates to more than just respectful customer service. It means genuine empathy and concern for people's well-being. Our 24/7 on-site staff obsess over details to make your home life warm and comfortable. You can hit them up for anything from laundry pickup and local organic food delivery to dog walking and excursion planning. Friendliness begets friendliness. Joy yields more joy. That's what it's all about. Discover new, luxury San Francisco apartments at Jasper in Rincon Hill. Be sure to follow Jasper on Facebook, Twitter, YouTube, and Instagram as we share news and updates about our exciting new community. #RentJasper It's a heck of a place to call home.