Mon / 26 October 2015
Mid-Market developer has highrise ambitions in Rincon Hill

Mid-Market developer has highrise ambitions in Rincon Hill
Developer pushes ahead on two more luxury projects after success of Mid-Market's Nema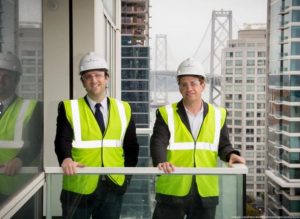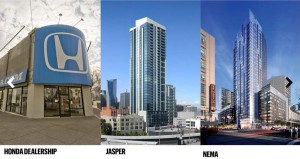 BIZJOURNALS.COM
JUNE 26, 2015
Mid-Market developer has highrise ambitions in Rincon Hill
Developer pushes ahead on two more luxury projects after success of Mid-Market's Nema
By Cory Weinberg
When Miami-based real estate developer Crescent Heights started to market the two Mid-Market apartment towers next to Twitter's headquarters two years ago, the complex's splashy website featured psychedelic signage for hippies and hipsters.
Crescent Heights' follow-up act to Nema is the 400-foot, 320-unit Rincon Hill tower known as Jasper, at 45 Lansing. Its branding took on a different flavor. This time, potential Jasper renters got to see a black-and-white video of a bespectacled little girl talking up the building's refined tastes.
"It's for people who know good things when they see them," she says in a high-pitched voice. "It's like when you saw Star Wars for the first time — it changed everything."
It's a different kind of pitch because 20-somethings probably won't be knocking down the leasing office doors to rent in Rincon Hill — a neighborhood that's full of condo towers, not rentals. But that's OK.
The neighborhood, on a hilltop near the Financial District, is set to lure in a professional class that Crescent Heights knows is starved for highrise, luxury rental housing. The apartments — which will have valet service and personal shoppers — open this fall but just started leasing and already have a waiting list of more than 1,000 people. Two-bedrooms will cost about $6,000 a month, depending on units' views and sizes.
"It's a different lifestyle (than living in Mid-Market). These people are further in their career and have done that already and want something a little" quieter, saidRoman Speron, regional manager at Crescent Heights. "Walking to work is going to make a big difference, too. It's all downhill."
It also appears all downhill for Crescent Heights, finally.
While Nema is now fully occupied and one of San Francisco's major success stories, Crescent Heights sat on the development parcel since 2006, waiting out the project as the economy collapsed and as the site filled up with rats. Crescent Heights bought in 2010 Jasper's 45 Lansing site, which had also been stalled.
The two luxury complexes will also have a young sister after Crescent Heights won 10 South Van Ness Ave., the current Honda dealership site, with a $58 million bid.
The trio of complexes will cost nearly $800 million combined. The high-rise towers will all be operated by Crescent Heights, too, as the developer looks to maintain full control to ensure top-notch customer service in its buildings.
While the developer faces a swarm of competitors building luxury apartments, it seems to be pleasing renters. Nema's 4.5 stars is the best rating of any San Francisco apartment complex on Yelp.
"I have to say, there's not that many other developers doing apartments in San Francisco that stand up to the standard that Crescent Heights is delivering," said Glenn Rescalvo, partner at Handel Architects, which designed Nema and is working on 10 South Van Ness. "They're looking to make big impacts, build large developments."
At Jasper, luxury is just the start. The building will have concierges and a staff of 35 to go along with "its intelligent mobile technology that preemptively alerts concierges upon entry and exit," according to the building's brochure. "We're going to be predictive with how we serve our residents," Speron said. "Our evolution is getting more niche in making this a service facility that's for one person at an individual basis. We're using technology to continue our evolution at customer service."
The next piece of the developer's evolution may lie in how it handles the entitlements for 10 South Van Ness.
Under the Crescent Heights plan, two 400-foot towers would bring 767 units to the corner of Market Street and Van Ness Avenue. Plans are still in development, Crescent Heights said, but "the Honda site is the culmination of a lot of the things we've learned on national projects and Nema," said Adam Tartakovsky, Crescent Heights' vice president of development.
Honda Dealership
Location: 10 South Van Ness in Mid-Market
Size: 767 units in two 400-foot towers
Status: Proposed
Cost: Bought the site for $58 million in May 2014 from the Boas family
Architect: Handel Architects
Jasper
Location: 45 Lansing St. in Rincon Hill
Size: 320 apartments in a 400-foot highrise
Status: Under construction
Cost: Bought the site for $13 million in 2010
Architects: Natoma Architects and HKS Architects
Nema
Location: Eight 10th St. at Market Street in Mid-Market
Size: 754 apartments in two towers
Status: Complete
Cost:$300 million to build
Architect: Handel Architects