Wed / 8 September 2021
The Crossing at East Cut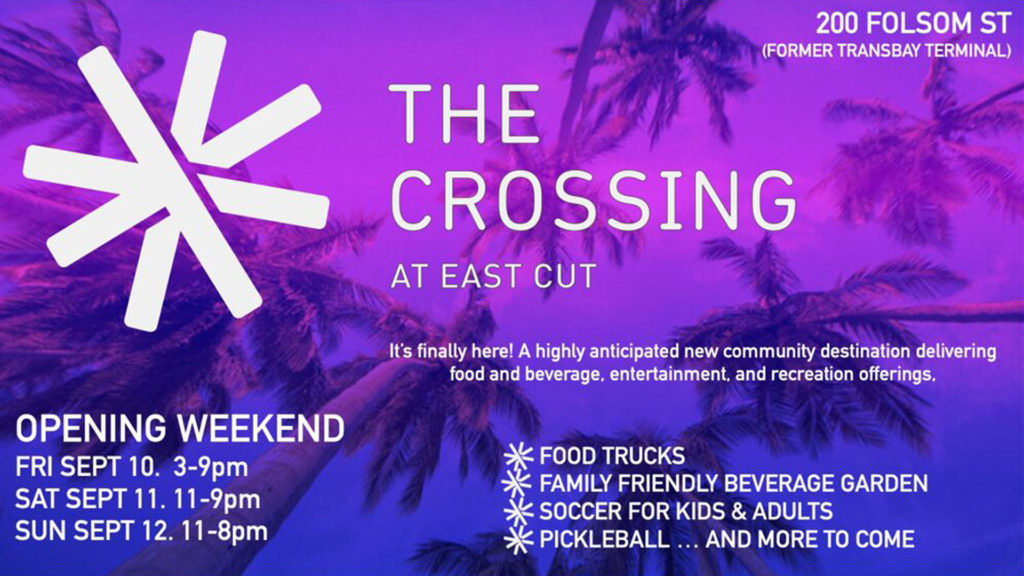 Our neighborhood keeps getting better and better with each passing day. We are excited that The Crossing at East Cut opens this weekend. Our friends at The East Cut have all the details regarding this upcoming event.
The Crossing at East Cut*, a highly anticipated new community destination delivering food and beverage, entertainment, and recreation offerings, will officially open Friday, September 10 at the former Temporary Transbay Transit Terminal.
The nearly 3.5-acre block between Howard, Main, Folsom, and Beale Street is being transformed so the community can access a family-friendly beer garden, food trucks, soccer fields, and more in a safe, welcoming, and well-designed space outdoors. An outdoor cinema, food & retail kiosks, a community marketplace, dog space, and kids play areas will be added soon.
Where: 200 Folsom Street, San Francisco; Entrance at Beale Street between Howard and Folsom
What: Family Friendly Beer Garden presented by Monarch Beverage Catering.
Food Trucks (rotating and will include) Hongry Kong, Bonito Poke, Wo Kitchen, Respectable Bird, RuRu, Mo Bowl, Mashallah Indian
Street Soccer USA Park with two pitches for open play, and league and youth programs.
Pickleball
When: Friday, September 10 – 3-9pm
Saturday, September 11 – 11am-9pm
Sunday, September 12 – 11am-8pm
*The Crossing at East Cut is an interim activation developed in response to and in coordination with Mayor London Breed's Downtown Recovery Plan. The effort is led by East Cut Landing Partners, a partnership between The East Cut Community Benefit District, Nestory Park, Real Active and Street Soccer USA. Visit www.eastcutcrossing.com for regular hours of operation following the opening, and email info@eastcutcrossing.com for more information.
Image credit: https://www.theeastcut.org
Sincerely Yours
Jasper is a convergence. Of structure and imagination. Of the classic and the eclectic. Of art and life. This 400-foot high-rise apartment building crowns San Francisco's fabled Rincon Hill and stands as an iconic addition to the city skyline. It is a statement about elegance in a place where elegance means something. Follow us on Facebook, Twitter, YouTube and Instagram as we share news and updates about our exciting community. #rentjasper It's a heck of a place to call home.