Fri / 3 January 2020
Local Love – Woodlands Pet Shop
We love having a local, neighborhood pet store just minutes away from Jasper. Woodlands Pet Shop is your one-stop shop for all your animal companions' needs!
Located at the corner of Beale and Folsom, this family-owned pet company specializes in wholesome food. They focus on carrying foods and treats with no artificial ingredients, unspecified byproducts, or fillers. They carry a wide variety of foods for cats and dogs, including Nutrisource, Open Farm (from humanely raised sources), and Primal (a local raw food company). They even have locally sourced meat grinds from their own Woodlands Market; these meat grinds are a great way to introduce raw food to your dog or cat's diet.
They also stock a variety of supplements to help cognitive or hip and joint support, bladder care, anxiety and more, as well as an assortment of litter and litter boxes and a large selection of toys, beds, and grooming products.
At the request of many customers, they have even added a section for small animals, including birds, turtles, rabbits, guinea pigs, rats, and fish.
All about community. In the spirit of giving back, Woodlands Pet Shop has donated over 3,500 pounds of pet food to two great animal rescue organizations: Rocket Dog Rescue and Tony La Russa's Animal Rescue Foundation (ARF). ARF's Pets and Vets program transforms dogs rescued from euthanasia into skilled service animals for veterans with PTSD, traumatic brain injuries, anxiety, severe depression and more. They chose Pets and Vets because of all they do for those that have helped serve the country.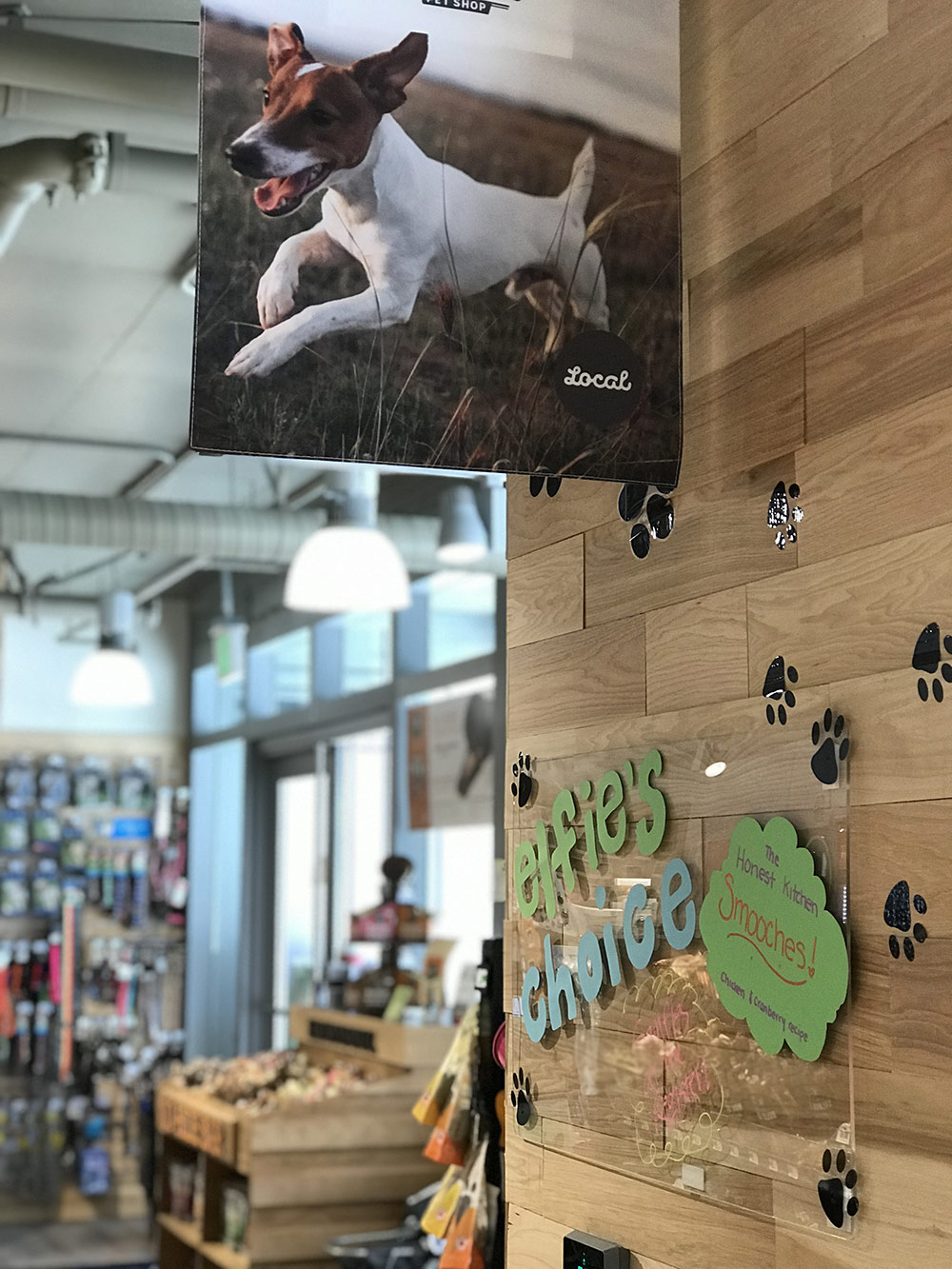 New to the area or never visited Woodland Pet Shop? Here's what people are saying on Yelp:
This little shop is close to work which makes it super convenient to grab something when i don't have time to go to my "normal" pet store near home. Typically, I come here for treats. Staff is friendly and helpful every time! Today I got to meet Elfie the "house dog," who actually belongs to one of the staff, Patricia. Elfie is super sweet and has a new follower on Instagram! She has her own business card too. 🙂 Elfie is a great worker and makes us want to come back! – Lani S.
This is our local neighbor pet shop. We adopted our puppy from an event that was hosted here. Our pup loves coming here to see Patricia and Hailey! They're both so friendly and helpful with recommending items to our puppy and even with diagnosing a food allergy. Don't forget to pick up a free treat for your furry friend at the counter, selected by the house doggie! – Celia W.
This is for the friendliness of the staff. My pups and I were greeted by a very welcoming woman. She showed us around and the cute sporting gear that had just arrived. Pricey, but that's typical of this neighborhood. We bought a bag of organic chicken treats which my dogs loved. – Maria C.
Woodlands Pet Shop is located at 201 Folsom Street, Unit 105 and is open daily 11 AM – 7 PM. You can learn more about Woodlands Pet Shop on their website, Facebook page and Instagram feed.
Sincerely Yours
Jasper is a convergence. Of structure and imagination. Of the classic and the eclectic. Of art and life. This 400-foot high-rise apartment building crowns San Francisco's fabled Rincon Hill and stands as an iconic addition to the city skyline. It is a statement about elegance in a place where elegance actually means something. Be sure to follow Jasper on Facebook, Twitter, YouTube and Instagram as we share news and updates about our exciting new community. #rentjasper It's a heck of a place to call home.